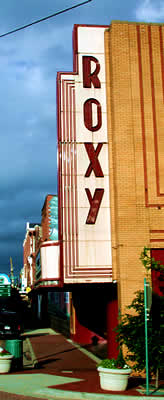 The Roxy Regional Theater in downtown Clarksville celebrates its 25th year as it launches the 2007-08 season with a new production of the rock and roll musical, Grease, the movie-turned Broadway musical, on September 21.
Many of us remember Grease as a movie with John Travolta as the bad boy Danny Zucko and Olivia Newton John as the sweet young Sandy, a classic case of opposites attracting in the hallowed halls of Rydell High, complete with a jazzed up car, the leather jacketed T-birds and the Pink Ladies living on the edge. This rollicking musical which opens Sept. 21 and runs through October 6, featuring such hits as We Go Together, Look at Me I'm Sandra Dee, Summer Nights, Greased Lightnin', and more.
The season continues with a staging of Oscar Wilde's The Picture of Dorian Gray (Oct. 12-27), drawn from the classic novel. Dorian Gray is obsessed with a belief that beauty and youth are at the center of life, and makes a bargain that keep his outward appearance young while his portrait continues to age.
Henrik Ibsen's A Doll's House (Nov. 9-24) introduces us to Nora, pampered, cared for, sheltered from life, a doll-like plaything to the world and her husband. She puts her life and her honor on the line to save her husband, only to find that he is unwilling to sacrifice anything for her. At this crossroad in her life, Nora is faced with a choice that will affect her very survival.
The Chimes (Nov. 30-Dec. 27) is a hybrid of Charles Dicken's classic play, A Christmas Carol and Frank Capra's memorable film, It's a Wonderful Life. In The Chimes, Toby Veck meets the spirits of the church chimes and sees the greater importance of his life.
Faery Tales makes an appearance for two matinee performances only, Jan. 19 and 26, with a retelling of of the Little Red stories and other classic happily-ever-after tales.
The iconic Ol' Blues Eyes comes to life in My Way: A Tribute to Frank Sinatra, running February 8 -March 1 with a Valentine's day performance). This show features 40 classic Sinatra songs. Be prepared for great music and plenty of nostalgia (and maybe even a slow dance in the aisle).
"Beware the ides of March…" We find another kind of lyric in the poetic playwriting of William Shakespeare, whose Julius Caesar reigns over the Roxy stage March 7-15. Politics, interpersonal conflict, and public violence mark the play as one of the Bard's most powerful.
Music returns with the start of spring and the production of High School Musical (March 28-April 19), based on the Disney channel movie that has become a cult hit among teens. What happens when a pretty brainy math whiz meets the basketball team captain over a Karaoke mic? And what do their friends think of the magic they create? Will it change them?
Dr. Suess makes a house call in two matinee performances of Seussical (April 26, May 3), bringing Horton, the elephant, and a host of Suess creations and characters. Guaranteed to enchant.
Mowgli, Balloo, King Louie and all the characters of Disney's version of The Jungle Book hit the stage May14-31 including three matinee performances and early evening start times to accommodate younger viewers. The ferocious Shere Khan joins the madness and mayhem of this delightful story.
Sentimentality and love return in Mitch Albom's Tuesdays With Morrie (May 23-June 7). Mitch visits a former professor, now dying from cancer. He is unexpectedly enriched by the experience, enough to return every Tuesday for what becomes an exploration of life, love and compassion.
What damage a little lie can do, as we find out in Lillian Hellman's landmark play, The Children's Hour (June 13-28). One lie, two lives shattered, and a testament to the devastation a little gossip; no sets such a stage as Hellman as she offers in one angry child a way to damage innocent lives forever.
The Roxy season closes is 07-08 season next summer with a lot of 'Shake, Rattle and Roll' in the form of the rock and roll musical All Shook Up, a tribute to the King, Elvis Presley. Running from July 11 through August 23, this tribute has the pelvis-twisting moves, poodle skirts and ducktail haircuts, and all your favorites — Jail House Rock, Love Me Tender, and the title song, All Shook Up.
Tickets are priced at $20 for musicals $15 for age 13 and under), $15 for other performances ($10 for age 13 and under). Ten-show subscriptions are available for $150. For more information, call the Roxy box office Monday through Friday from 9 a.m. to noon at 931-645-7699. You can also visit the Roxy website at www.roxyregionaltheatre.org.