Along the Riverfront, workers are busy stringing more than one million lights through the trees, preparing to illuminate Christmas on the Cumberland, Clarksville's walk-thru holiday light display.
The holiday display, a 'new' city tradition, opens November 20, 2007 with a lighting ceremony and entertainment at Clarksville's McGregor Park RiverWalk on Riverside Drive. This year's theme is The Spirit of Christmas.
Several new scenes have been added to Christmas on the Cumberland this year making it bigger and brighter than ever. The new montages include a Santa train, a gingerbread park, a snow globe, a giant sea-monster, a fishing scene, Santa flying an airplane, and Santa water skiing. The most striking display will be a lighted, 20-foot Screaming Eagle Emblem custom made to represent Ft. Campbell's 101st Airborne Division, which currently has hundred of its soldiers deployed in Iraq.
The Grand Opening Celebration for Christmas on the Cumberland will begin with holiday entertainment performed by The Beagles starting at 6:00 p.m., with Mayor Johnny Piper officially lighting up the park during a 6:30 p.m. lighting ceremony.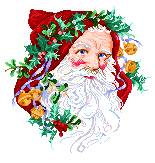 Immediately following the brightening on the Cumberland, children will be able to meet some of their favorite characters such as The Grinch and his dog Max, Santa and Mrs. Claus, Geoffrey, Chuck E. Cheese, and Shoney Bear.
Downtown visitors can enjoy an added treat this year with the holiday lights reaching from Public Square to Millennium Plaza beginning on the evening of November 20. More than 300 businesses in the Central Business District, including downtown and Riverside Drive, were asked to join the celebration by decorating their stores and shops for the holidays as well.
The City and County are also collaborating to host Downtown for the Holidays, a family-friendly event, immediately following the 48th Annual Clarksville Christmas Parade hosted by the City of Clarksville and the Clarksville Jaycees on December 1.
Admission to Christmas on the Cumberland is free and the event will be open nightly through January 1, 2008 unless inclement weather occurs.
A list of special events the City of Clarksville and other organizations have planned downtown for the holidays will be posted online at www.christmasonthecumberland.com. For more information please contact the City's Special Events Office at 931-648-6129 or 931-648-6124.