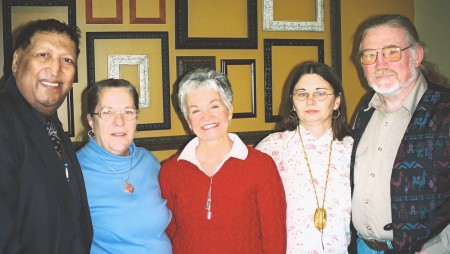 NCC members meet with State Senator Rosalind Kurita. (l-r) Dr. James Cossingham-member; Virginia Moore-Secretary; Senator Kurita; Virginia Moore-Secretary, Doug Kirby-President. (Not shown- Turner McCullough Jr-member/photographer)
Members of the Clarksville Native Cultural Circle recently met with members of the Montgomery County State Legislative Delegation to urge support for pending legislation that would grant state recognition of Tennessee Native American tribes. The legislation is seen as a first step towards correcting discrimination against Native American Indians in Tennessee.
The focus is two-pronged: Eliminate recognition barriers and support of state recognition for Tennessee Native Tribes.
Following the Trail of Tears Removal, those Native Americans who did not abandon their homesites were subject to punitive laws and regulations designed to strip them of their rights to property and deny their parental rights. Many families hid their Indian heritage to avoid the consequences of proclaiming their ancestry. During the era of Jim Crow laws, Native Americans were also victimized by these repulsive abuses of political authority along with African Americans. Tennessee does not recognize recognize Native Americans as a minority group.
NCC members meet with State Rep. Joe Pitts. (l-r) Doug Kirby-President, Virginia Moore-Secretary; Rep. Pitts, Philenese Slaughter-Treasure, Dr. James Cossingham-member. (Not shown- Turner McCullough Jr.-member/photographer.)
HB3299 would grant state recognition to several native tribes and tribal groups and establish criteria whereby other groups may apply for recognition. One of the benefits to state recognition is losing the current federal prohibition preventing Native American artisans in Tennessee from advertising their art and crafts as 'Native American Art.'
The Native Cultural Circle is a Native American history group. It has staged its annual pow-wow continuously for eleven years. The pow-wow is an educational presentation to the greater community that seeks to inform non-tribal peoples of the true history, traditions and customs of Tennessee's Native People. It also serves as a networking opportunity for Native Americans, young and old, from across the country.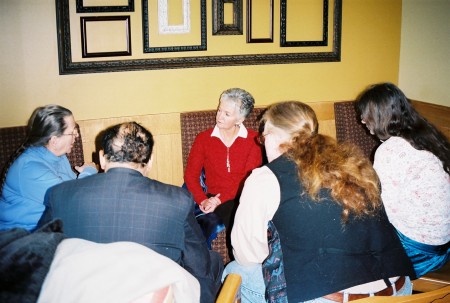 Proceeds from the pow-wows are used to purchase authentic Native American educational books which are given to local elementary school libraries. The group also stages demonstrations of native dance and song, along with showcasing native regalia (native styles of clothing). This allows the students to learn the true history and traditions of native tribes.