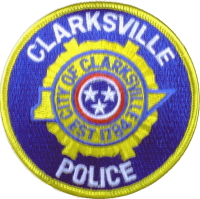 One week after an infant girl was found dead, unattended in a parked vehicle, Clarksville Police experienced what could have been instant replay: they were lucky this time.
On July 13, at approximately 2:20 am, a five month old infant was found crying in a vehicle with the windows rolled up and doors locked on the lot of Chapala's at 1191 Fort Campbell Blvd., by Officer Stephen Holman, who was there on an unrelated matter.
The parents were located inside the bar and it was determined that the infant had been left in the vehicle since approximately 11:00 pm. The child was placed in DCS custody. Both parents were booked into the Montgomery County Jail charged with Child Abuse / Neglect.
The parents charged in this case are the mother, Marleny Martinez ~ Amaya, 21 of 802 Sunny Ridge Circle, Dickson, Tennessee, and the father, Enrique Ramirez 28, also of 802 Sunny Ridge Circle, Dickson, Tennessee. Their bond was set at five thousand dollars each. Detective Kevin Shaw is the lead investigator.
Last week, Courtni Nichols of Palmyra was charged with first degree murder after her infant daughter was found dead in a car parked outside of Dodge's Store on Fort Campbell Boulevard.