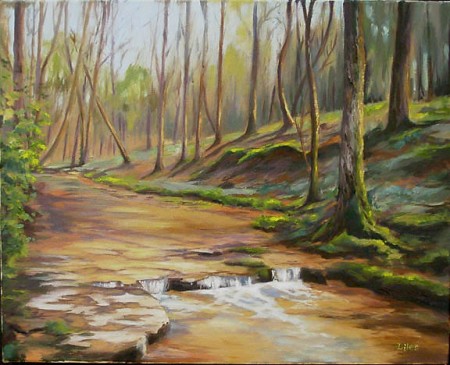 The Downtown Artists Co-Op in beautiful downtown Clarksville is happy to announce a new art exhibit by long-time member artists Nada Fuqua and Betty Liles. The opening reception will be tonight, July 17, from 5:00 p.m. through 8:00 p.m. at our gallery located at 96 Franklin Street. The new works will be on exhibit through August 12. Hours are Wednesday through Saturday from noon until 6:00 p.m. with no admission charge.
Nada and Betty are both from Hopkinsville, KY, and both work primarily with oil paints but do a variety of works in other media. Nada says that she loves the way oil paint moves, even how it smells. Nada says that painting has been her bobby for many years and she never stops learning and developing new techniques.
She says that, "This year I'm learning a new technique from an artist-friend in South Dakota. Using this technique I cover the canvas in layers of wet paint, often using complementary colors, then use styli of different shapes to define and make details." Nada says that a number of her paintings in this show were done in this style.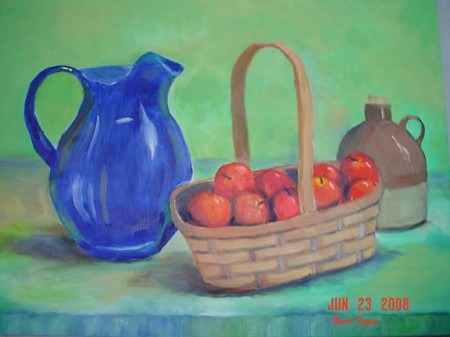 Nada also loves painting portraits in live sittings using pastels. She says she receives satisfaction from seeing the pleasure that her friends and family get from the portraits for years to come.
Betty Liles is a native of Christian County, Kentucky. She studied commercial and fine art at Austin Peay State University and Murray State University. She says that the primary medium she employs is oils on canvas, "but I also use alkyds, acrylics, water colors and mixed media."
In the upcoming show she has used a variety of media to paint landscapes, portraits, figure studies, still-lifes and abstracts. Painting is a passion that Betty has enjoyed all of her life and she enjoys the challenge of a variety of subjects and various media.
Betty and Nada are both members of The Portrait Society of America as well as the Hopkinsville Art League, the Downtown Artists Co-Op, the Tennessee Art League and other art organizations. Both are excellent artists who never stop studying and finding ways of stretching for a new challenge.
Cliff Whittaker