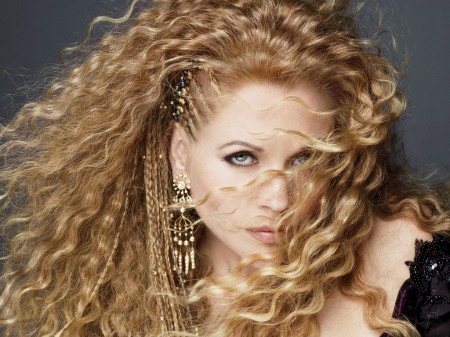 The Met Live in HD will launch its 11-show 2008-09 season with a gala opening night featuring Renée Fleming in a trio of lyrical performances including Verdi's La Traviata (Act II), Massenet's Manon (Act III), and Richard Strauss' Capriccio (Final Scene).
This initial performance of New York's unparalleled Metropolitan Opera   aired  September 22. These high definition telecasts are not available in Clarksville; local opera fans must travel (and they do travel) to Nashville's Green Hills or Opry Mills Cinemas to see these shows. These HD productions will be screened in some 800 venues around the world, with new countries in South America and Europe joining the Live in HD network this season.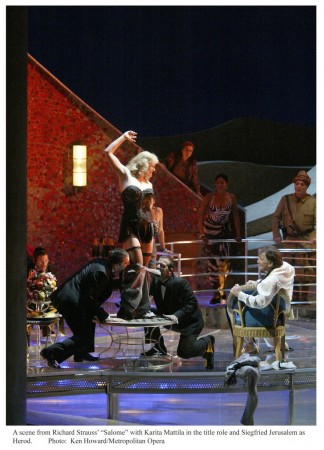 For the season-opening gala starring Renée Fleming, Music Director James Levine and Marco Armiliato conduct fully staged performances of the second act of Verdi's La Traviata, the third act of Massenet's Manon, and the final scene from Richard Strauss's Capriccio. Tenor Ramón Vargas and baritones Thomas Hampson and Dwayne Croft join the soprano. Conductors are James Levine and Marco Armiliato with performers Renée Fleming, Ramón Vargas, Thomas Hampson, and Dwayne Croft.
The Saturday performances began October 11 with Richard Strauss' Salome at 12 noon CST. Karita Mattila caused a sensation when she sang Salome at the Met for the first time in 2004. She reprises her stunning interpretation of the part, including her unforgettable Dance of the Seven Veils. Conductor is  Mikko Franck; production, Jürgen Flimm; with the voices of Karita Mattila, Ildikó Komlósi, Juha Uusitalo, Kim Begley, and Joseph Kaiser.
On Saturday, November 8, 2008 (12 noon CST), John Adams's contemporary masterpiece Doctor Atomic makes its Met Premiere. Doctor Atomic explores a momentous episode of modern history: the creation of the atomic bomb. Director Penny Woolcock makes her Met debut with this gripping story that changed the course of history. Baritone Gerald Finley plays J. Robert Oppenheimer, the title character. Conductor is Alan Gilbert; production: Penny Woolcock; with the voices of Sasha Cooke, Meredith Arwady, Gerald Finley, Eric Owens, Richard Paul Fink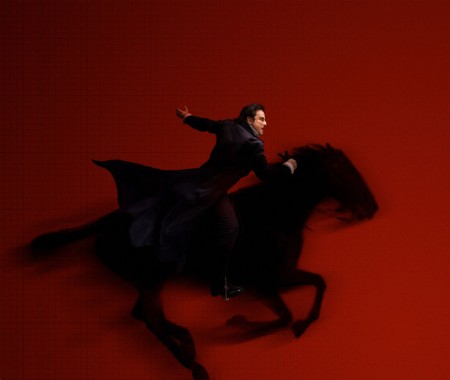 On Saturday, November 22, 2008 (12 noon CST),  Berlioz's La Damnation de Faust (New Production) will be directed by Robert Lepage, one of theater's most imaginative directors. Lepage applies his artistry to Berlioz's contemplation of good and evil. Using projections, Lepage has created a vision for La Damnation de Faust that seamlessly marries art and technology. Marcello Giordani stars in the title role opposite Susan Graham as Marguerite and John Relyea as Méphistophélès. James Levine conducts this rarely staged masterwork, with production by Robert Lepage; and the voices of Susan Graham, Marcello Giordani, John Relyea.
The Met offers its fan a Christmas gift in the form of the Saturday, December 20, (12 noon CST) performance of Massenet's Thaïs (New Production). Renée Fleming stars as the Egyptian courtesan in search of spiritual sustenance. Thomas Hampson is the monk who falls from grace. Massenet's sensual opera is presented in a new production by John Cox. Conductoris Jesús López-Cobos; with production by John Cox; and the voices of Renée Fleming, Thomas Hampson, and Michael Schade.
Puccini's La Rondine (New Production) airs Saturday, January 10, 2009 (12 noon CST) with Angela Gheorghiu and Roberto Alagna provide the star power to deliver this ravishing romance from the world's most popular opera composer. Gheorghiu plays the kept woman who gambles on true love, and Alagna is the man who makes her question the cost of her glittering existence. Nicolas Joël directs the new production of this gorgeously melodic look at love. Conductor is Marco Armiliato; with production by Nicolas Joël; and with the voices of Angela Gheorghiu, Lisette Oropesa, Roberto Alagna, Marius Brenciu, and Samuel Ramey.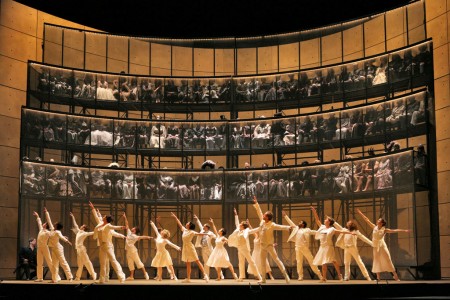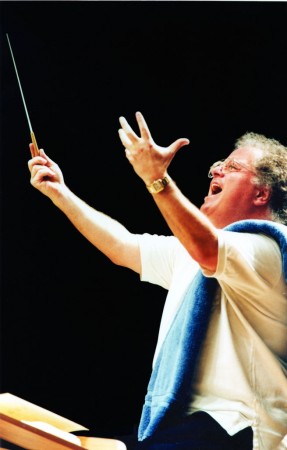 Mark Morris's acclaimed production of Gluck's Orfeo ed Euridice returns on Saturday, January 24, 2009, at 12 noon CST. This complete vision for Gluck, with choreography by Morris and costumes by Isaac Mizrahi, features the artistry of Stephanie Blythe in the male title role. The alluring Danielle de Niese is Orfeo's adored wife, Euridice, who inspires the hero to face the underworld for her sake. Music Director James Levine conducts. Productionis by Mark Morris; with Stephanie Blythe and Danielle de Niese.
Donizetti's Lucia di Lammermoor graces the stage on Saturday, February 7, 2009 (12 noon CST) with Anna Netrebko sings the title role of Donizetti's fragile heroine for the first time at the Met, with tenor Rolando Villazón in the part of her lover, Edgardo. Baritone Mariusz Kwiecien is her tyrannical brother. Mary Zimmerman's hit production is staged as a Victorian ghost story. Conductor is Marco Armiliato; and the voices of Anna Netrebko, Rolando Villazón, Mariusz Kwiecien, and Ildar Abdrazakov.
Madama Butterfly, Puccini exquisite love story, plays Saturday, March 7, 2009 (12 noon CST) with Cristina Gallardo-Domâs returns to the title role of Anthony Minghella's stunning production, a new classic of the Met repertory, opposite Marcello Giordani. Conductoris Patrick Summers; with production by Anthony Minghella; and the voices of  Cristina Gallardo-Domâs and Marcello Giordani.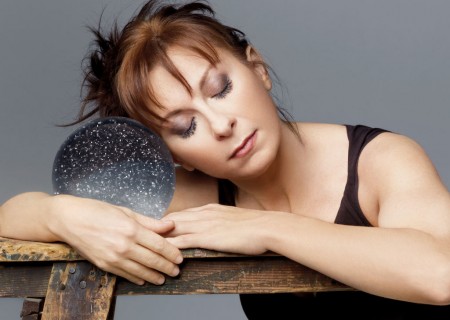 On Saturday, March 21, 2009 (12:00 noon CST), a new production of Bellini's La Sonnambula will feature Mary Zimmerman, who directed Natalie Dessay in last season's hit production of Lucia di Lammermoor, underlines La Sonnambula's dual elements of sleep and wakefulness in an intriguing staging set in the present. Bellini's hauntingly lyrical score soars as performed by Dessay and Juan Diego Flórez, back from their sensational run together in La Fille du Régiment. Conductoris Evelino Pidò; with production by Mary Zimmerman; and the voices of  Natalie Dessay, Juan Diego Flórez, and Michele Pertusi.
Rossini's La Cenerentola airs Saturday, May 9, 2009 (11:30 pm CST). Hot on the heels of her triumphant Met debut as Rosina in last season's Il Barbiere di Siviglia, El?na Garan?a portrays another Rossini charmer in this bel canto Cinderella story. Lawrence Brownlee is her Prince Charming. Veteran baritone Alessandro Corbelli demonstrates his impeccable comic timing to match the gravitas of Met favorite John Relyea. Conductor is Maurizio Benini; with production by Cesare Lievi; and the voices of  El?na Garan?a, Lawrence Brownlee, Simone Alberghini, Alessandro Corbelli, and John Relyea.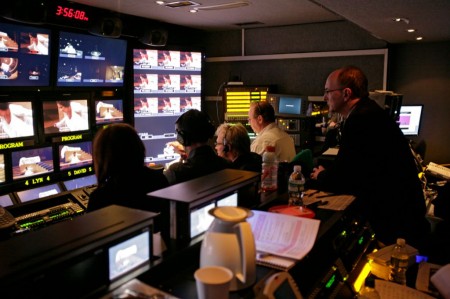 While program and casting may be subject to change, this global broadcast series brings the Met's finest music, conductors and voices to a the world. Running times are approximate. Intermissions in these performances are filled with backstage interviews and a glimpse of the action behind the staging of these great opera's. Tickets for these performances are available now at the following theaters:
Regal Green Hills 16, 3815 Green Hills Village Drive, Nashville TN 615-269-5910
Regal Opry Mills 20, 570 Opry Mills Drive, Nashville TN (615) 514-3462