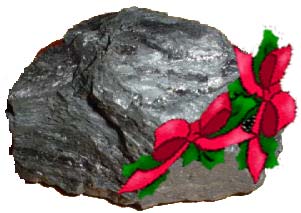 NASHVILLE – The Tennessee Center for Policy Research today announced that Clarksville City Councilman Richard Swift and Wayne Wilkinson, a member of Clarksville's Downtown District Partnership, are the recipients of the "2008 Lump of Coal Award."
The Tennessee Center for Policy Research awards this dubious distinction annually to the person or group in Tennessee who, more than any other over the past year, acted as a Grinch to Tennesseans by bah-humbugging the principles of liberty and limited government.
Swift and Wilkinson receive the fourth annual badge of disgrace for leading efforts to take the homes and businesses of Clarksville residents through eminent domain for a private redevelopment scheme that would line their own pockets.
When a group of citizens criticized Swift and Wilkinson for their attack against private property and their conflicts of interest, the shameless duo assaulted the Clarksville residents' First Amendment rights by filing a frivolous lawsuit attempting to silence the criticism.
The City of Clarksville and the Clarksville Downtown District Partnership, led by Swift and Wilkinson, are threatening hundreds of homes and businesses with the Clarksville Center Redevelopment and Urban Renewal Plan. The scheme affects  as many as 1,800 homes, businesses and churches, primarily owned by low-income and minority residents, posing a threat of eminent domain. Swift and Wilkinson are both real estate developers positioned to benefit from the redevelopment plan.
In an attempt to protect their property, a group of Clarksville residents whose homes and businesses are threatened by the redevelopment plan formed the Clarksville Property Rights Coalition. The Coalition ran an ad in the Clarksville Leaf Chronicle criticizing the redevelopment scheme and pointing out that Swift and Wilkinson were  developers positioned to benefit from the city's land grab.
Six days later, Swift and Wilkinson assaulted the Coalition's right to free speech by filing a frivolous libel lawsuit against the Clarksville residents, demanding the group pay them $500,000.
"It is disgusting and pathetic that these Scrooges would even imagine suing a group of citizens fighting to keep them from taking their homes and businesses," Johnson said. "No one in Tennessee deserves to find their stockings filled with coal this Christmas more than Richard Swift and Wayne Wilkinson, the Grinches of Clarksville."
About the Author: The Tennessee Center for Policy Research is an independent, nonprofit and nonpartisan research organization committed to achieving a freer, more prosperous Tennessee through the ideas of liberty. Visit TCPR online at: www.tennesseepolicy.org.
Sections
Business, News, Politics

Topics
Blight, City of Clarksville, Clarksville Property Rights Coalition, Eminent Domain, Leaf Chronicle