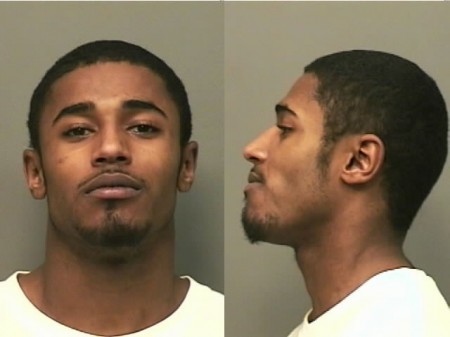 On December 29,  Reginald Lamar Pope  (B/M), 19, of  1121 Riverwood Place, Clarksville, was charged with 5 counts of reckless endangerment with a bond of $25,000.
On December 29, at approximately 2:05 p.m., officers responded to a call in reference to shots being fired at a vehicle with 3 occupants.   The investigation revealed that one of the occupants of the vehicle, Joshua Henry, 19 went to  Pope's apartment to confront him about taking a friend's money early in the morning.  When Pope opened the door, he was armed with a handgun. 
Henry immediately left the residence and was driving away with two male passengers, 20 and 35 years old,  when Pope fired a handgun at the departing vehicle.   The vehicle was not hit but the 45 caliber bullet that was fired hit a brick wall, was deflected, and entered a bay window of an occupied apartment.  The bullet came to rest on a table, by the bay window, in an apartment occupied by a 10 year old female and 39 year old female.  Reginald Pope admitted to firing at the occupied vehicle.  Pope was arrested and transported to Montgomery County Jail.
The lead investigator is Detective Larry Boren, 931-648-0656, ext 2309 or Crimestoppers, 931-645-8477.