San Diego religious symbol's display on public land violates Constitution, Church-State watchdog group argues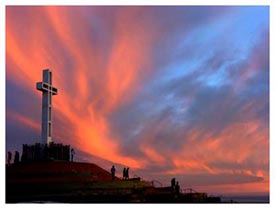 The Christian cross is not an appropriate symbol to memorialize deceased veterans of many different faith perspectives and should not be displayed on government property, Americans United for Separation of Church and State has told a federal appeals court.
Americans United and other religious and civil liberties groups today asked the 9th U.S. Circuit Court of Appeals to overturn a lower court's ruling holding that the Mt. Soledad cross in San Diego is a secular war memorial.
"American service personnel come from many different faiths and some follow no spiritual path at all," said the Rev. Barry W. Lynn, executive director of Americans United. "It is disrespectful to our deceased veterans to use the symbol of only one faith to memorialize them all.
"As a Christian minister, I know the cross has great meaning for many Christians," Lynn continued, "but it is simply not an appropriate marker for non-Christians."
Litigation over the 43-foot-tall Mt. Soledad cross has been under way for nearly 20 years. Several federal courts have ruled against its display on city property. In an effort to save the cross, the federal government acquired the land underneath the cross in 2006.
Legal action proceeded against the federal government's ownership of the towering religious symbol. In July of 2008, U.S. District Judge Larry Alan Burns ruled that the cross "communicates the primarily non-religious messages of military service, death and sacrifice" and can remain on public property.
In their friend-of-the-court brief filed today, Americans United and other groups dispute that conclusion.
"That the cross is used in a veterans' memorial here does not make it secular," asserts the brief. "In fact, as a burial marker, the cross has been used almost exclusively for Christian burials in order to convey a sectarian message that the deceased lived and died as a member of a particular Christian community. And as a monument in a veterans' memorial, the cross conveys a similar sectarian message: that only fallen Christian soldiers are being remembered. Given the 'commanding presence' of the Mt. Soledad cross in relation to the rest of the memorial, the primary message that this cross communicates is religious, not secular."
Added Americans United Senior Litigation Counsel Alex J. Luchenitser, "The towering cross, visible for miles around, sends a message that the government favors and endorses Christianity, and it fails to honor the sacrifices of the many non-Christian soldiers who have given their lives in the service of their country."
Joining Americans United on the brief are Hadassah, the Women's Zionist Organization of America, Inc.; Interfaith Alliance; Military Association of Atheists and Freethinkers; Military Religious Freedom Foundation; Progressive Christians Uniting; and the Unitarian Universalist Association.
The Mt. Soledad case, Americans United points out, deals with the display of a religious symbol on public property by government. A decision ordering that the Mt. Soledad cross be removed would in no way affect crosses on graves in veterans' cemeteries such as Arlington National Cemetery.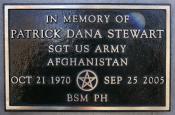 The families of veterans interred at such facilities have the right to choose among various religious symbols for headstones. Americans United supports this right and has successfully litigated on behalf of a Wiccan war widow who wanted to put a Pentacle on her late husband's memorial marker.
The brief in Jewish War Veterans of the United States of America v. City of San Diego was drafted by Americans United's Madison Fellow Jef Klazen in consultation with Americans United Legal Director Ayesha N. Khan and Luchenitser.
About the Authors: Americans United is a religious liberty watchdog group based in Washington, D.C. Founded in 1947, the organization educates Americans about the importance of church-state separation in safeguarding religious freedom.