Fort Campbell is serving as a National Logistics Staging Area for Federal Emergency Management Agency trucks and supplies sent to Western Kentucky as a result of the recent ice storms, which have left hundreds of thousands of our Kentucky neighbors without power or water.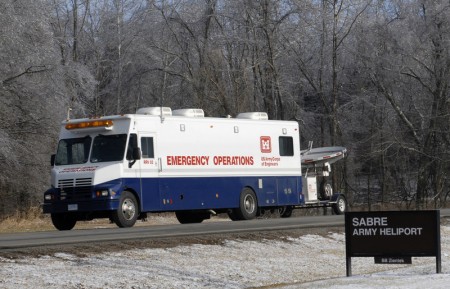 Between midnight and 8 a.m today, 24 semi-trucks of supplies, including water, generators and Meals Ready to Eat, arrived at a secure location on Fort Campbell. By mid morning, the trucks had moved on to critically hit areas in Western Kentucky. Fort Campbell will continue to serve as a staging area as long as resources are being provided in response to the incident.
Clarksville Mayor Johnny Piper today said "This week's ice and snow storms have affected Clarksville's neighbors to the north fairly significantly and many families in Kentucky have been out of their homes since the beginning of the week due to widespread power outages."
Mayor  Piper is asking Clarksville's hotels, restaurants and other businesses  "to be helpful and extend their generosity to the many families and individuals staying in Clarksville while crews work to restore power to the region just north of us.  With no real timeline for how long the power outages may last, the potential need for these visitors to extend their stay in Clarksville is evident and could be very costly and frustrating for those who have been displaced "
Many hotels have filled up and are helping people find rooms in Nashville and other nearby communities.  Several retailers have banded together to restock desperately needed items such as generators and other supplies.
"This is certainly indicative of Clarksville's generous spirit and I think as more people hear about the situation our neighbors are facing, more help will be extended to those in need," said Mayor Piper.