Beth Garza believed she was invited to a recent Faculty Senate meeting at Austin Peay State University to discuss financial assistance for students pursuing study abroad programs.
Rather, members devised her appearance as a setup to present her with the first APSU Staff Member of the Year Award.
"I really enjoy working at APSU," said Garza, functional support specialist in the APSU financial aid office. "I am truly blessed to work with such great faculty and staff and hope to continue to make a positive impact on people."
Garza has been in the financial aid office since December 1999. She worked as a financial aid counselor until July 2008 when she was promoted to her current position.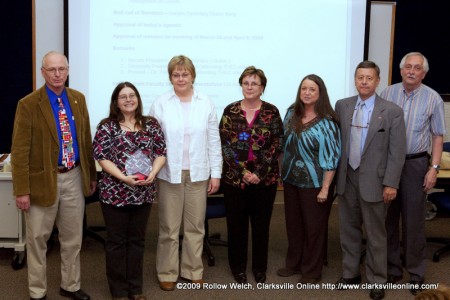 "Now, most of my duties are more with banner setup and reports rather than assisting students directly," she said. "Over the years as a counselor, I met with many students and parents and that is probably how many faculty started to get to know me as well."
Garza said she continues to serve as a resource for students needing help with the often complicated financial aid process.
"Students don't always understand where to go for assistance and sometimes approach their professor for resolutions or ideas on where to go," she said. "I try to help people whenever I can; although the answer isn't always yes, I strive to make sure I do the best to find a way if possible."
An APSU graduate, Garza soon will complete her master's degree from APSU.
"This is where I have grown up to be the person I am today," she said. "I will always try to do the best possible job, and although I may not get to work with as many students hands on, I will still be working behind the scenes to make sure our processes are as simple as possible."