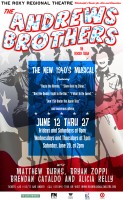 As part of its 26th season of presenting professional live theatre in historic downtown Clarksville, the Roxy Regional Theatre opens the new 1940's musical THE ANDREWS BROTHERS on Friday, June 12, at 8pm.
Mistaken identities, madcap comedy and the greatest music of the 1940's fill this hilarious new musical.  Three soldiers find themselves giving the performance of a lifetime when a certain singing trio of siblings fail to arrive at the USO gig.
Starring Bryan Zoppi as Lawrence, Brendan Cataldo as Max, Matthew Burns as Patrick and Alicia Kelly as Peggy, THE ANDREWS BROTHERS features such songs as "Rosie the Riveter," "Slow Boat to China," "Beat Me Daddy, Eight to the Bar," "I Want to Be Loved," "Don't Sit Under the Apple Tree" and numerous others.
THE ANDREWS BROTHERS runs June 12 thru June 27, playing Wednesdays and Thursdays at 7pm and Fridays and Saturdays at 8pm, with a 2pm matinee on Saturday, June 20.  Tickets are $20 ($15 for ages 13 and under) and can be purchased online,  or by calling (931) 645-7699 during regular box office hours (9am-2pm, weekdays).