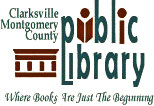 If you are looking for a creative way to cool off inside this summer then sign your child up for the "Be Creative at your Library", Summer Reading Program at the Montgomery County Library.
The program kicks off today at 2pm with the T'ween Scene Program, where your "T'ween"  can come and express themselves in age appropriate art activities. The first week continues with special guest Scott Shupe from the Kentucky Reptile Zoo, jewelry making, pajama time, song and dance for your little one under five, and crazy science experiments with Mad Scientist Keith Trehy!
When you sign up your child will receive a reading log and attendance passport to be stamped. You will receive credits and rewards for reading books throughout the summer. If your child attends for four out of the six weeks and received four stamps in their passport then they will receive a book of their choice free of charge! What a great reward!!!
You also will not want to miss the Scholastic Book Fair running week two of the program June 15-19.
Summer will be over before we know it, don't miss this opportunity this summer, the program ends July 17th!