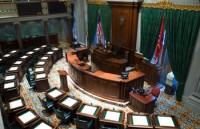 'A Week's Worth' is a feature that gives Tennesseans an in-depth look at what State Senator Tim Barnes has been working on this past week, and a preview for the coming week in the Senate.
This week:
Summer
Help for unemployed
The new energy economy
Help for foster care children
June is a busy time for you and your families, with softball, weddings, summer camp and vacation Bible school. Maybe you'll even get in a vacation, with gas prices down from what they were last year.
It's busy for us in the legislature these days, as we work hard to pass the last remaining bills and hammer out a state budget. Here are a few things we've been working on.
Added help for the unemployed
I joined my Senate colleagues this week in approving expansion of unemployment benefits. With a statewide unemployment rate of 10%, many Tennesseans need this so they can put food on the table and keep a roof over their heads.
As the governor recently said, most unemployed Tennesseans don't want benefits, they want jobs. But until they can get hired, they need help.The legislation we passed this week makes more out-of-work Tennesseans eligible to draw benefits and authorizes allowances for dependents and benefits for some part-time workers.
They will spend the money at our local businesses. That is how real economic recovery happens.
Embracing the new energy economy
The governor's energy bill passed in the Senate this week, and I was glad to support it.
It outlines ways that the state can teach by example, conserving and using alternative energy whenever possible in Tennessee's state facilities.
The legislation also establishes incentives that will attract more clean-energy companies to Tennessee, where they will be a part of what is becoming a hub for green-collar industry.
Help when foster care ends
For most young people, turning 18 is a milestone to celebrate. For a young person who has spent a large part of his or her youth in foster care, 18 can be scary. That's when protection of the foster care system officially ends.
We passed a bill this week that aims to make the transition smoother. It sets up guidelines for the Department of Children's Services and other state agencies to help connect former foster children with resources available to them until they turn 24.
As they make the change to living on their own, they need help finding a school or training for employment. They must find a place to live and a way to get around. Many need guidance on parenting or finding health care.
When we can get things like this right, we avoid costly problems down the road with these young adults
…Tim