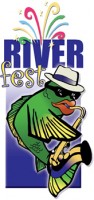 This year's Riverfest Celebration is set to take place September 11 and 12. Preparations for this year's festivities are already well underway.
In 2008, the City of Clarksville introduced the new mascot for the Riverfest Celebration. The animated fish character will serve as the face of Riverfest again this year and for years to come.  Each year the mascot will be doing a different Riverfest activity.  Now, we need the public's help in naming the Riverfest fish.
We are inviting the public to help us choose a name for our festive fish. If you have a suggestion, we would like to hear it.  If your name is chosen, you will receive an exclusive 2009 Riverfest V.I.P. Package that includes a framed 2009 Riverfest poster, Hospitality room passes and Meet & Greet opportunities for available performers.
You may submit your entry in a few different ways.  You can fill out and submit the online entry form at www.clarksvilleriverfest.com or www.cityofclarksville.com.  You may also call the Parks and Recreation Department at 931-645-7476 or mail your entry to 102 Public Square Clarksville, TN 37040.  Please include your name, address, phone number and e-mail address.
There are a few contest guidelines for you to follow:
Limit one entry per person
Inappropriate names will be not be considered.
In the event that the same name is submitted more than once, the first entry received will qualify.
Deadline for entry is August 3.
The winning name will be announced at the 2009 Riverfest press conference on August 13.