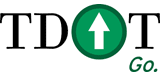 NASHVILLE – Tennessee Department of Transportation crews will close a short section of Interstate 440 in Nashville this weekend as a major concrete rehabilitation project gets underway.  This weekend's closure is one of several planned for the coming months.  Contract crews will close I-440 Eastbound from the Interstate 40 junction on the west side of Nashville to Interstate 65 at 8:00 p.m. on Friday, August 21, 2009.  I-440 will reopen no later than 5:00 a.m. Monday, August 24.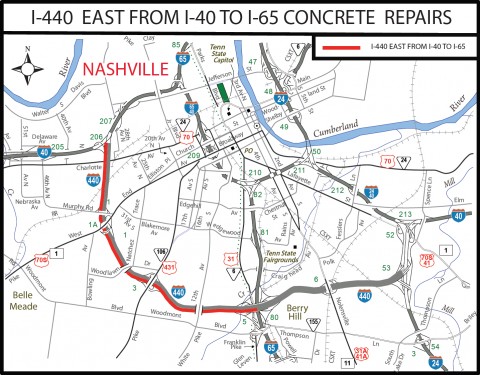 "The concrete surface along most of I-440 is experiencing significant deterioration and is in need of extensive repairs," said TDOT Chief Engineer Paul Degges. "By closing sections of the road on weekends over the next few months, we can complete these repairs in a relatively short amount of time and provide a smooth riding surface for this heavily traveled roadway."
The project, which is funded through the American Recovery and Reinvestment Act, includes repairs to deteriorating concrete at a number of locations on I-440:
I-440 East from I-40 to I-65
I-440 East from I-65 to I-24
I-440 West from I-24 to I-65
I-440 West from I-65 to I-40
Crews will perform work on one section at a time.  Only one of the above mentioned sections will be closed during any weekend.  During the weekend closures, crews will saw out and remove damaged sections of concrete and pour new concrete, which must harden completely before the road can reopen to traffic.  In addition to repairs on the mainline of I-440, crews will also work make repairs to on and off ramps at Nolensville Road, Hillsboro Road/21st Avenue, and West End/Murphy Road, and the I-40, I-65, and I-24/I-40 interchange ramps.
TDOT will use its many overhead message boards across the city to direct motorists around the upcoming closures. Several portable message boards will also be placed at strategic points on Nashville interstates to alert drivers of detour routes.  Most of the traffic will be diverted to Interstate 40 through downtown Nashville or Interstate 65. In addition, information on the closures will be broadcast on the TDOT SmartWAY Highway Advisory Radio station (1680 AM) and on 511.
The $4.3 million dollar repair project is scheduled to be complete by April 2010.  The I-440 corridor runs 7.66 miles and connects with I-65 and I-40.  More than 106,000 vehicles travel I-440 each day.  The interstate connector was completed in 1987 and has only undergone spot repairs since that time.
For more information on TDOT construction project activity visit the TDOT SmartWay web site at www.tn.gov/tdot/tdotsmartway/.  Travelers can also dial 511 from any land-line or cellular phone for travel information or can follow us on Twitter at www.twitter.com/TN511 or www.twitter.com/Nashville511.  As always, be responsible behind the wheel and have a passenger call 511 or use Twitter, or pull to the side of the road to access these services.