Senior guard Wesley Channels redeemed himself by scoring eight overtime points to lead Austin Peay State University to a 76-71 Ohio Valley Conference-opening victory against Southeast Missouri, Thursday night, in Dave Aaron Arena.
The victory provided Austin Peay head coach Dave Loos his 400th career coaching victory. Loos is in his 24th head-coaching season, 20th at APSU. It also was his 200th OVC win. But the victory came a little more difficult than Loos would have liked.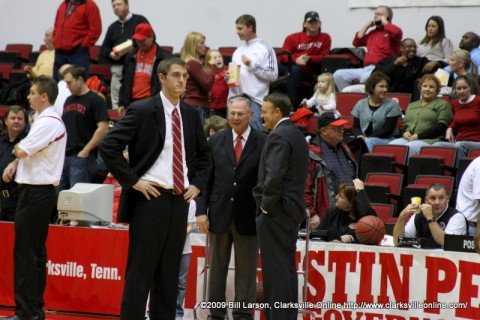 Austin Peay, now 4-4 overall, squandered an eight-point lead in the final minute as SEMO's Lucas Nutt, son of Redhawks coach Dicky Nutt, nailed a three pointer with 4.8 seconds left to send the game in overtime at 60-60. During that final minute, Channels, a preseason All-OVC choice, missed three of four free throws to open the door for the Redhawks, who were attempting to end a 25-game OVC losing streak.
In overtime, Nutt scored the first two points at the free-throw line before John Fraley responded with one of two free throws to make it a 62-61 contest. Then Channels stole the ball from Anthony Allison and was fouled. He made both free throws. Then after a SEMO three-point miss, Channels nailed a three pointer to give APSU a 68-62 lead with 2:20 left.
After Nutt connected on a three-point play, Channels answered with two free throws of his own to keep it a five-point game with 1:58 remaining. SEMO would not get closer than four points the overtime's remainder.
Channels finished with 20 points on the night but was just 4 of 10 at the free throw line during regulation before connecting on 5 of 6 in overtime Overall APSU was just 25 of 42 (59.5 percent) from the free-throw line.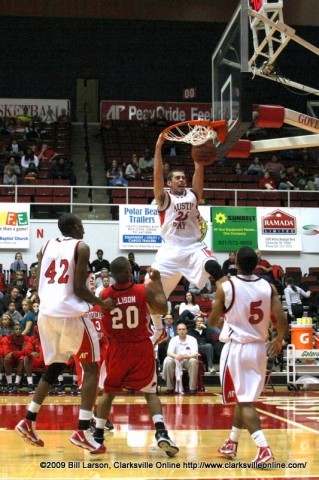 Sophomore forward Anthony Campbell added 19 points while junior forward Duran Roberson scored a career-high 15 points off the bench. Sophomore center John Fraley added 12 points.
Freshman guard Derek Thompson, who connected on two three pointers in the final 46 seconds, led SEMO, now 2-6 overall, with 18 points while junior forward Cameron Butler added 13 points—but  only three after intermission—and a game-high nine rebounds.
SEMO connected on 8-of-19 from three-point range in the game but 7-of-12 in the second half. SEMO outshot the Governors 49 percent (24 of 49) to 41.8 percent (23 of 55) for the game.
APSU will return to action, 7:30 p.m., Saturday, against Eastern Illinois. A Governors win will allow Loos to tie former Murray State and UT Martin coach Cal Luther for most victories (319) while coaching in the OVC.