CLARKSVILLE – Austin Peay State University women's basketball team trailed for one and a half minutes but scored 29 points over the next 10 minutes en route to a 76-63 Ohio Valley Conference victory against Southeast Missouri, Thursday night, at the Dunn Center.
Austin Peay (2-5, 1-0) won its first home game in its fourth try this season.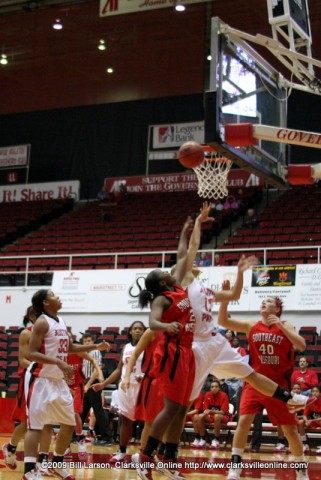 The Lady Govs scored the game's first field goal but surrendered four straight points and trailed, 4-2, at the 18:13 mark. Southeast Missouri held its lone lead until junior Brooke Faulkner hit the first of her four three-point field goals with 16:51 left. That shot ignited a 29-8 Lady Govs run that ended with APSU leading by 19 points, 31-12, with 8:42 remaining. Southeast Missouri would trim the deficit and trailed by 14 points, 40-26, at halftime.
Southeast Missouri (2-4, 0-1) came out of the break and scored the second half's first five points to slash the lead to nine points, 40-31, with 18:15 left.
However, Austin Peay stemmed the tide with junior Ashley Herring's three-point field goal. Senior Nicole Jamen stymied the Redhawks on their next two possessions, tapping the ball away at the top of the key and taking the loose ball to the other end for easy layups each time. Those seven points were part of a 20-10 APSU run that pushed the lead back to 19 points, 60-41, with 6:37 remaining.
The Redhawks would close to within 10 points twice during the final 10 minutes but the Lady Govs made 8 of their 10 free throws during that span to secure the victory.
Faulkner led the Lady Govs with 14 points, making a career-high four three-point field goals. Jamen had a perfect shooting night, making all six of her field goals and converting her one free throw try, to finish with 13 points. Herring added 13 points – her sixth straight double-digit scoring outing – seven rebounds and four assists.
Sophomore Lauren Sharpe led Southeast Missouri with 16 points. Freshman Lesley Adams finished with nine points and 10 rebounds in a foul- laden 24-minute outing.
Austin Peay completes its OVC December pairing when it hosts Eastern Illinois in a 5:15 p.m., Saturday contest.