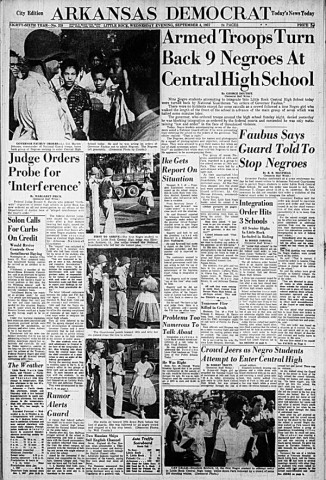 It takes courage to step outside the mold society tries to force you in, to change the status quo. However, for our society, for our culture to progress, that is exactly what must happen. That was the case in the civil rights era. Young African Americans seeing the inequity of their status and position in our society began to lash out.  This lashing out would end up shaking the very foundations of America, and resulted in the first steps towards true equality for every person in this country no matter their race. We are not yet there, the road still stretches out before us, but at least we have begun the journey.
Austin Peay State University moved us another step along that path by bringing in Terrance Roberts to speak, one of the original nine young people who bravely volunteered to be the first African American students to attend a formerly whites only Central High School in Little Rock Arkansas.
Becoming a Civil Rights Activist was not something he sat out to do.
The year was 1955, and all the seats in the hamburger eatery were reserved for white patrons, so 13-year-old Terrence Roberts ordered food to go.
While waiting, he impulsively sat down at the counter and then realized a hush had fallen over the place. Everyone seemed to be looking at him threateningly. He canceled his order and left. As he walked home, Roberts remembers wondering "what it would take for (him) to be treated like a real human being."
The Supreme court had already issued it's landmark ruling in the Brown v. Board of Education case and called for the desegregation of the public school systems throughout our nation. As Terrence Roberts pointed out "Separate but equal sounds good, but never works in practice." So the NAACP was looking for exceptional African American students to enroll in a previously all-white school.
In Little Rock they selected nine students based on their grades and attendance records. They were Ernest Green (b. 1941), Elizabeth Eckford (b. 1941), Jefferson Thomas (b. 1942), Terrence Roberts (b. 1941), Carlotta Walls LaNier (b. 1942), Minnijean Brown (b. 1941), Gloria Ray Karlmark (b. 1942), Thelma Mothershed (b. 1940), and Melba Beals (b. 1941)
The first day they attempted to enter Central High School they were met by soldiers from the Arkansas National Guard who were under orders from the Governor to block the students from entering. One of the students Elizabeth Eckford, later spoke of this day:
They moved closer and closer… Somebody started yelling, 'Lynch her! Lynch her!' I tried to see a friendly face somewhere in the crowd — someone who maybe could help. I looked into the face of an old woman and it seemed a kind face, but when I looked at her again, she spat on me.
The students were removed for their safety.
Attorneys from the U.S. Justice Department were able to get an injunction ordering the Arkansas National Guard to be withdrawn. At the request of the Mayor of Little Rock, President Dwight D. Eisenhower deployed soldiers from the 101st Airborne Division to enforce the courts injunction. They were to remain in Little Rock for 6 weeks, until they were relieved by the U.S. Marshals.
It was under the escort of these soldiers that the students were first able to enter the school and attend classes.  However, the soldiers could not protect the students from the other students and they were subjected to taunts and violence on almost a daily basis. The Africian American students did not retaliate, they had taken oaths to follow the doctrine of non-violence promoted by civil rights leader Dr. Martin Luther King Jr, "Most of the white students saw us as a stationary target". One student Melba Pattillo had acid thrown into her eyes. Terrance Roberts related being assaulted with a baseball bat. However he persevered and refused to let that that stop him from learning, "Even though I was risking my life on a daily basis, I still had to learn how to conjugate verbs"
The intimidation did not stop at their school. The student's own neighbors feared they would be the target of "Economic reprisals".
Asked by the audience if there were white students who were friendly to the nine African American students, Roberts said that those who were perceived as being friendly were told in no-uncertain terms the repercussions for their actions and soon backed off. But as he pointed out "You cannot color code the universe. Not every white person was my enemy, not every black person was my friend."
In May of 1958 Ernest Green became the first African American to graduate from Central High School.
During the question and answer session following his address Roberts observed that Racism is insidious that even today it is still present, hidden just under a thin veneer of civility. "I've been known to go up and hug a known bigot, and they don't like it one bit."
Roberts sees a need to for the United States to continue providing affirmative action. "The people involved in the argument on either side (of affirmative action) have no idea of what they are arguing about." However he feels that Affirmative Action should be expanded to provide opportunity to all disadvantaged people, no matter their skin color. "There is no such thing as race," he said "We are all just people"
He spoke out about peer pressure, "Don't fall for peer pressure, it's all about following the leader, and the leader is usually blind as a bat," to which the audience responded with laughter.  "People should think their own thoughts, and make healthy choices."  He continued, "Other people cannot define who you are, they cannot define who I am."
These are all lessons the people of Clarksville should take to heart.
The Little Rock Nine Foundation
The Little Rock Nine formed a foundation in 1999 to provide scholorships to minority students.
The Little Rock Nine® Foundation is a non-profit organization dedicated to principles of excellence in education for young people of color. Considering the high price we, the Little Rock Nine, had to pay for the right to attend public school, we intend to ensure that future generations do not have to expend the same kind of energy to acquire basic education. By providing financial support for students, urging local and national governmental bodies to maintain high quality systems of instruction, convening forums to discuss and debate questions related to educational delivery systems, and coordinating the publication of materials designed to inform the citizenry about the needs in this arena, we will help make it possible for students of color to reach their educational goals.
You can find out more at their web site www.littlerock9.com
Roberts strongly encouraged everyone to go make a donation, "Small donations when added together can change people's lives."
Lessons from Little Rock
Terrance Roberts wrote a book about his experiences as a Civil Rights Activist
One of the Little Rock Nine tells how his life changed when he became a symbol of desegregation

A remarkable and powerful story of personal strength." —Paul Robert Walker, author of Remember Little Rock

Sober news reports of a U.S. Army convoy rumbling across the bridge into Little Rock cannot overpower this intimate, powerful, personal account of the integration of Little Rock Central High School. Showing what it felt like to be one of those nine students who wanted only a good high school education, Roberts's rich narrative and candid voice take readers through that rocky year, helping us realize that the historic events of the Little Rock integration crisis happened to real people—to children, parents, our fellow citizens.
About Terrence Roberts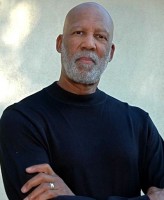 Terrence Roberts graduated from California State University and earned a PhD in psychology from Southern Illinois University. He now resides in California, where he owns and directs a management consulting firm. President Clinton presented Roberts with the Congressional Gold Medal in 1999. Roberts is a frequent public speaker and has been featured on Good Morning America, The Today Show, The Oprah Winfrey Show, The Rachel Maddow Show, and NPR's Tavis Smiley Show.
Photo Gallery
Sections
Arts and Leisure
Topics
101st Airborne Division, Austin Peay State University, Brown vs Board of Education, Carlotta Walls LaNier, Central High School, Civil Rights, desegregation, Dwight D. Eisenhower, Elizabeth Eckford, Ernest Green, Gloria Ray Karlmark, Jefferson Thomas, Little Rock, Little Rock Nine, Little Rock Nine Foundation, Melba Beals, Minnijean Brown, NAACP, Racism, Segregation, Supreme Court, Terrance Roberts, Thelma Mothershed