The Kiwanis Club of Clarksville held their Annual John D. Maddox Sr. Memorial Pancake Breakfast on Saturday, a fund-raising event they have been holding for over forty years. The all you can eat Breakfast  featured light and fluffy pancakes, sausage patties, crisp bacon, and your choice of drinks.
The Kiwanis club utilizes the revenue generated from their events to fund their philanthropic works in the community, including a Christmas party for children in the Head Start program, they buy presents and winter hats and coats for them.  Buying books for the reading is fundamental program.  They also give donations other youth oriented organizations. To find out more about the charitable works of the Clarksville Kiwanis club visit their web site.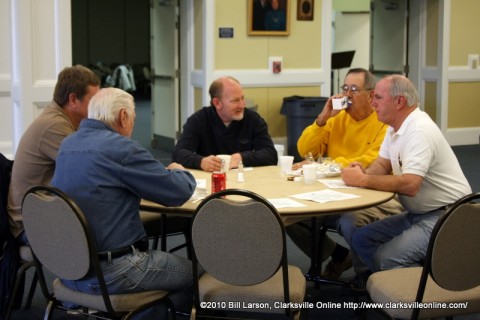 The attendees ranged from your average man on the street, to some of the social and political elites in our community: Attending was the Johnny Piper, the City Mayor; Montgomery County Sheriff Norman Lewis and his wife Kris; Judge Ross Hicks; Judicial Candidate Ken Gobles; Jim Durrett; and local business woman Kendel Welsh among many others.
I spoke with Frazier Allen about the breakfast, he said that they were going to be feeding between 500 and 700 people on that day.  When asked what purpose the Kiwanis uses the money they raised towards, he mentioned a wide variety of local civic organizations, but first and foremost  was Reading is Fundamental. A program which places 3 books a year into the heads of every 3rd grader in the City of Clarksville, to spread the love of reading to the next generation. They also hold a yearly Kiwanis Club Christmas Party  for around 200 head start students who are given new winter coats and presents.  They also support the Scouting, Cub Scouts, Boy Scouts and Girl Scouts; The Salvation Army; Big Brothers/ Big Sisters; the American Red Cross; YMCA; the American Cancer Society; and many more organizations in our community. Frazier said the Clarksville Kiwanis Club was, "All about helping young children."
Allen did gave me some bad news. He said the Kiwanis Rodeo has been put on hiatus until the new marina is complete, and so it would not be held this year.
In it's place they are expanding the Kansas City BBQ Society Sanctioned Porkin' in the Park BBQ Cook-of,  the contest which is held on Strawberry Alley in Historic Downtown Clarksville, July 9th-10th. He said this year you can expect more food, more music, and especially more fun!
If you are interested in becoming a member of the Clarksville Kiwanis Club you simply talk with any current Kiwanis Club Member, they can get you started on your way. The Kiwanis Club is made up of all types of people, with a focus on Business owners, especially small business owners and the self employed.