The City of Clarksville Parks and Recreation Department along with the Clarksville Athletic club has wrapped up their six week free fitness classes that were held beside the Cumberland River at McGregor Park.  The series was a success, with at least 20 people per session rising early to attend.
Sunrise Fitness began May 22nd and featured Sunrise Yoga on Saturday mornings coupled with a unique fitness activity such as pilates, zumba, or bootcamp on Wednesday mornings.  Each class met from 6:00am to 7:00am.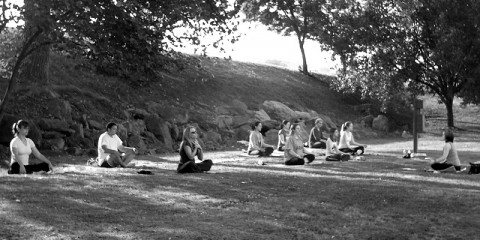 At the last session on June 26th, Wendy Johnson, received a thirty minute massage courtesy of Eden Day Spa & Salon for being the person with the most participation by attending every session.  Three others, Sandra Ocampo Turner, Christie Davidson, and Denise Galben also attended every session.
Wendy Johnson, a Sunrise Fitness participant said of the series, "I enjoyed seeing many people come out and enjoy the river, the park and the fitness.  I had a great time and wish it was a continuing event.  I am very happy to see Parks and Rec as well as the city promote physical fitness.  More cities need to adopt this attitude given the recent study naming Tennessee the second fattest state in the US.  Many thanks to Nikki, Parks and Rec, and Clarksville Athletic Club for the wonderful program."
As of now, we don't have any other Sunrise Fitness classes scheduled, but looking to add another series in the future, so be sure to check our website for details. If you're looking for something now, try our Zumba classes at the Crow Center beginning July 14th. This popular program combines music and dance in an effort to make exercise fun.  Classes are offered Wednesday's from 6:30pm to 7:30pm and Friday's from 5:00pm-6:00pm.  The cost is $3.00 per class or $30.00 for the entire six-week session.
For more details on Sunrise Fitness or Zumba, please contact the Clarksville Parks and Recreation at 931-645-7476 or visit www.cityofclarksville.com.