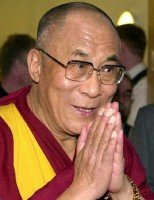 A number of years ago when Bill and I lived in Charlottesville, Virginia, I worked for a while as the executive secretary for the Omni Hotel. During that time, the hotel hired a number of Tibetan refugees to work in the services area of the hotel. Bill and I came to know them and to like them very much. They were quiet, gentle people who worked very hard, made every effort to learn English, and contribute to the lives of those around them.
These fourteen Tibetans were in their early twenties and in order to save money, rented together a large white house in an old section of Charlottesville. Meticulously neat, their home was spotless and simply furnished.
We were honored to be invited to their celebration of the birthday of His Holiness, the 14th Dalai Lama, Tenzin Gyatso. He actually attended this luncheon in their home. His translator from 1979 to 1989, Jeffrey Hopkins, was a member of the faculty of the University of Virginia at the time. It was through Professor Hopkins that the Dalai Lama learned of this feast.
These young people had prepared every imaginable type of Tibetan food. A long table was filled with meats, dumplings, desserts, fruits and every delightful taste to tempt one's palate.
Prior to the meal, a prayer was offered. As is the Buddhist tradition, the prayer was one hummed tone, or mantra, that sounded to our Western ears like, "Ummmmh."
The Dalai Lama is both the spiritual leader and the head of state of Tibet. Born on July 6, 1935, he is 74 this year. He was born to a farming family in northeastern Tibet and was called Lhamo Dhondup. He was recognized as the reincarnation of the 13th Dalai Lama, Thubten Gyatso, at the age of two. Buddhists believe that the Dalai Lamas are manifestations of Avalokiteshvara or Chenregiz, the Bodhisattva of Compassion, the patron saint of Tibet. Bodhisattvas are enlightened beings who choose to be reborn in order to serve humanity and they are believed to have postponed their own nirvana.
Nirvana to the Buddhist is reached when one has arrived at the ultimate state in which one has attained disinterested wisdom and compassion.
Educated from the age of six and having attained the highest level degree equivalent to a doctorate in Buddhist philosophy, the Dalai Lama believes he is just a simple monk. "I feel that the Dalai Lama as a temporal ruler is a man-made institution. As long as the people accept the Dalai Lama, they will accept me. But being a monk is something which belongs to me. No one can change that. Deep down inside, I always consider myself a monk, even in my dreams," he states.
He assumed full political power of Tibet in 1950 after China invaded Tibet in 1949. He was forced to escape into exile in 1959 when the Chinese began its brutal suppression of the Tibetan people. His home has been since then in Dharamasala, northern India, and this is the seat of the Tibetan political administration in exile.
The Dalai Lama has worked tirelessly for a free Tibet since then. His Five Point Peace Plan envisions the transformation of Tibet into a zone of peace and respect for fundamental human rights and democratic freedoms for the Tibetan people.
The cornerstone of the Dalai Lama's teaching is kindness. He has received over 84 awards and prizes in addition to honorary doctorates. In addition, he has written more than 72 books. Among his awards are the Nobel Peace Prize and the Congressional Gold Medal.
The day we met the Dalai Lama was one of the most memorable in our lives. The July picnic we attended was that of friends who respected and loved each other. It was a quiet day with a person who was not greeted by cheering throngs, but with honor. The Dalai Lama did not present himself as one above others but as a simple being who was one of many.
I was again honored to be in his presence when the University of Virginia held a conference of Nobel Laureates. His was the speech I attended of all those who were there and it was again his quiet demeanor that impressed me most.
When times seem oppressive and filled with stress, it is good to remember the peace and kindness of this amazing teacher.