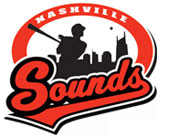 Reno, NV – The Nashville Sounds lost 7-4 to the Reno Aces on Saturday night at Aces Ballpark in the finale of a four-game set to suffer its first losing series sweep of the season.
Reno right fielder Chris Rahl went a perfect 4-for-4 on the night, while former Sound Cole Gillespie added three hits and two runs scored.
The Aces scored the first run in the opening frame as Gillespie singled to reach base. Brandon Allen followed with an RBI double to left field to plate Gillespie from first base for a 1-0 Reno lead.
Reno scored four more runs in the bottom of the fourth inning, beginning the damage by recording two walks off Sam Narron to open in the inning. Former Sound Carlos Corporan singled home the first run, with Mark Hallberg doubling home the next. Later in the frame with two outs, Rahl knocked a two-run single to center to score Corporan and Hallberg for a 5-0 advantage.
The Sounds countered in the next inning scoring three runs to cut the lead to two runs. Brendan Katin crushed a 3-1 offering from Zach Kroenke over the left field wall for the first run, his 15th long ball of the season. Katin's solo shot moved the slugger to second on the Sounds all-time home runs list with 58 career home runs, trailing only Chad Hermansen (92).
Nashville scored two more runs later in the inning, thanks to two-run double from Ray Olmedo.
Reno advanced the score to 7-3 with runs in the fifth and sixth innings. The Aces brought home a run on a wild pitch from David Johnson in the fifth, with Gillespie driving home the next score with an infield RBI single in the sixth.
Joe Koshansky belted a solo homer in the top of the seventh inning to bring the Sounds within three runs at 7-4. It was Koshansky's team-leading 19th home run and 62nd RBI of the season.
Narron (7-5) took the loss, allowing five runs on six hits and four walks in four innings pitched.
Johnson struck out four while giving up two runs in two innings pitched. Donovan Hand made a scoreless appearance, advancing his shutout streak to eight outings (8.0 IP). Chris Smith allowed one hit on one scoreless frame.
Kroenke (4-3) picked up the win, giving up three runs on six hits with four strikeouts in five innings pitched. Carlos Rosa earned his sixth save of the year, striking out two in a perfect ninth.
The Sounds continue their eight-game road trip in Nevada after tonight's contest, traveling to Sin City to play a four-game series with the Las Vegas 51s (AAA-Blue Jays) beginning at 9:05pm CT tomorrow night. Sounds right-hander Josh Butler (2-1, 5.94) takes on 51s lefty Luis Perez (4-3, 6.24).
Sections
Sports
Topics
Aces Ballpark, Brandon Allen, Brendan Katin, Chad Hermansen, Chris Smith, Cole Gillespie, David Johnson, Donovan Hand, Joe Koshansky, Josh Butler, Nashville Sounds, Ray Olmedo, Reno Aces, Sam Narron, Zach Kroenke