Austin Peay State University's volleyball team twice came within sight of set victories but could not find points at critical times and lost in three sets (19-25, 22-25, 23-25) to host Mississippi State, Friday, in the nightcap of the MSU Maroon Classic.
Mississippi State (2-0) jumped out quickly in the match's opening set, rolling to a 6-1 lead and forcing Austin Peay to take its first timeout. The stoppage only momentarily stemmed the tide as Lady Govs sophomore outside hitter Nikki Doyle scored a kill to end the rally. But the Bulldogs scored six of the next seven points to take a 12-3 advantage and force the Lady Govs to take their second timeout. Austin Peay would only get as close as five points, 23-18, the rest of the way as Mississippi State posted a 25-19 victory.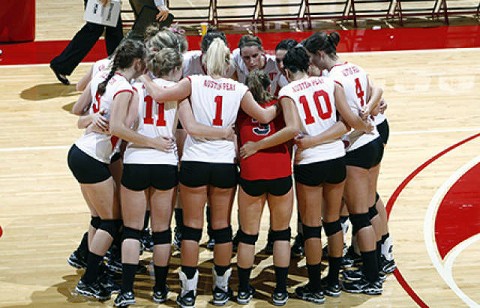 Austin Peay (1-1) shook off the early defeat and challenged their hosts in the second set, breaking out to a 8-3 lead and forcing Mississippi State to take a timeout. The Bulldogs slowly reeled the Lady Govs back in and finally tied the set, 15-15. The two teams would trade points until Austin Peay recorded back-to-back kills by junior middle blocker Taylor Skinner and sophomore outside hitter Ilyanna Hernandez to take a 22-20 lead. But the Lady Govs would not score another point as the Bulldogs scored the final five points, including three on consecutive kills, to post the 25-22 victory.
The final set was a see-saw affair as the two teams exchanged the lead 10 times with 16 ties. Austin Peay got to within two points of the set victory after scoring five consecutive points to take a 23-22 lead. But again Mississippi State pulled rabbit out of its hat for the set win, getting a kill from Ashley Newsome and two from Chanelle Baker to record the 25-23 match-clinching win.
Doyle followed her season-opening 15-kill performance with 11 kills against Mississippi State. Junior middle blocker Jessica Mollman added nine kills off the bench and Hernandez added eight kills.
Mississippi State saw three players reach double-digit kill territory, Newsome leading all hitters with 12 kills. Caitlin Rice added 11 kills and Baker finished with 10 kills.