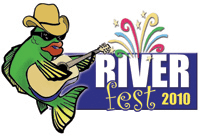 Riverfest was not just about the music and arts this year- the activities took center stage as well! Back this year, by popular demand- Wait Staff Wars sponsored by Chefmart. Servers from The Hilton Garden Inn and Edward's Steakhouse battled it out to see who would take the top prize. After a series of tasks that tested their serving skills, The Hilton Garden Inn pulled ahead and won the contest. Servers from Edward's Steakhouse did not go home empty handed, they won the award for "Best Customer Service"
New to Riverfest this year- the Cornhole Tournament! Over 20 teams registered for the free tournament that was held Saturday, September 11th at 2:00pm. Smith Contractors won the ACA sanctioned tournament in the final double elimination round against The Pole Crew. The winning team received gift cards and goodie bags courtesy of O'Charleys. Do you have ideas on what you would like to see at next year's Riverfest?  Add "Clarksville Parks & Recreation" as your friend on Facebook, and leave us a comment!
For more information on Clarksville Riverfest results, please visit us online at www.cityofclarksville.com or call 931-645-7476.