Topic: Riverfest 2010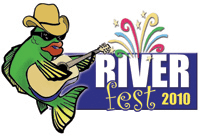 The rock band Lucky Drag preformed on the Mary's Music stage at the Clarksville's 2010 Riverfest Celebration. The Nashville based band  features lead singer Erik Hendrickson,  Jason Yates  on bass, Danny Berrios on drums, and with "more-than-occasional help" from Denny Smith on the guitar. According to their web site, "If you like your guitars loud, your choruses yelled, and silly pop songs wrapped in a loud package… Lucky Drag is for you."
«Read the rest of this article»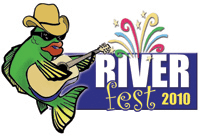 Riverfest was not just about the music and arts this year- the activities took center stage as well! Back this year, by popular demand- Wait Staff Wars sponsored by Chefmart. Servers from The Hilton Garden Inn and Edward's Steakhouse battled it out to see who would take the top prize. After a series of tasks that tested their serving skills, The Hilton Garden Inn pulled ahead and won the contest. Servers from Edward's Steakhouse did not go home empty handed, they won the award for "Best Customer Service"
New to Riverfest this year- the Cornhole Tournament! Over 20 teams registered for the free tournament that was held Saturday, September 11th at 2:00pm. Smith Contractors won the ACA sanctioned tournament in the final double elimination round against The Pole Crew. The winning team received gift cards and goodie bags courtesy of O'Charleys. Do you have ideas on what you would like to see at next year's Riverfest?  Add "Clarksville Parks & Recreation" as your friend on Facebook, and leave us a comment!
For more information on Clarksville Riverfest results, please visit us online at www.cityofclarksville.com or call 931-645-7476.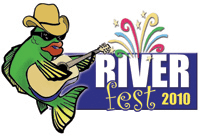 Black Velvet played Saturday on the Bud Light Stage at the 2010 Riverfest Celebration. The unsigned band features Anna Henderson (Bass Guitar, Lead and Harmony Vocals), Tina Huff (Lead and Harmony Vocals), Lenny Henderson (Lead Guitar and Vocals), Jimmy Cheshire (Lead Guitar and Vocals), and  Jim Klingler (Drums).  They list the artists that influenced their music as Kitty Wells, Patsy Cline, Loretta Lynn, Patty Loveless, Trisha Yearwood, Reba, And last but definitely not least Wynonna Judd.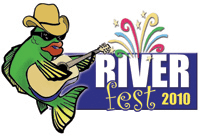 It's been several days after the end of the 2010 Riverfest Celebration, and for those who worked the two day festival, life is returning to normal. The hard working folks with the Clarksville Department of Parks & Recreation along the entertainers, and hundreds of volunteers ensured that the visitors could simply enjoy some good wholesome family fun.
This was the first year that Clarksville Online and Discover Clarksville was selected to document the festival as much as was humanly possible. Roland Woodworth, Ashley and Meghan Hamilton, and Bill Larson were given the job of photographing everything in the tiniest of detail, while Mark Haynes shot hours and hours of raw video footage, and Sue Culverhouse took it all in to get material for her wonderful articles!
«Read the rest of this article»


The weekly Clarksville Parks and Recreation Department Recreation Report provides Clarksvillians with a glimpse at the activities and events that are available from the Parks and Recreation Department for them to enjoy together as a family.
Parks and Recreation wants to thank everyone that came out to enjoy Clarksville's 23rd Annual Riverfest Celebration! A special thanks to all of our sponsors, partners, and volunteers for making this year a success! We look forward to Riverfest 2011, September 9th and 10th.
This weeks highlights include:
Jammin' in the Alley
Archery is back
Clarksville's Downtown Market
Kleeman Senior Dance
Punt, Pass, Kick
Bicycle Safety Checks
For more images of the 2010 Riverfest Celebration visit Discover Clarksville. «Read the rest of this article»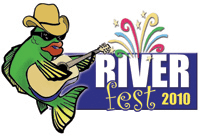 A former resident of the Boston and Washington, D.C. areas, I have been fortunate to see some great artworks in my life. I've also witnessed the recent "Emperor's New Clothes" variety (otherwise called "modern art" by some). My feelings towards some of the obscenities fostered on the public in recent years as "art" cannot be printed in this format. One only has to walk through the National Art Gallery where the display is chronological to see how talent somehow was replaced with publicity stunts to see how some artists have sold their souls to pure unadulterated "selling a bill of goods to the unsuspecting" to see what I mean.
«Read the rest of this article»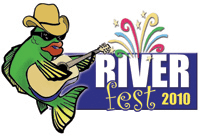 The 23rd annual Riverfest Celebration, kicked off Friday night, September 10th at 5:00pm.  This free, two day music and arts festival features three stages of a variety of local, regional and nationally-known entertainers, delicious food, and fun for the entire family.
Exit Right hit the Gateway Stage at 7:00pm to a large crowd. The band played until 8:00pm to a cheering audience.
Come join the City of Clarksville as they celebrate Clarksville's river heritage Saturday night along the banks of the Cumberland river. For more information, checkout Clarksville Online's detailed article on Riverfest 2010. You can also visit www.clarksvilleriverfest.com.
by Councilman Bill Summers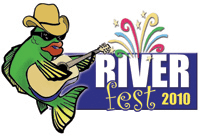 Just a reminder that Riverfest starts today and runs through tomorrow.
 
Tomorrow morning, around 9:30am, the annual cardboard racing schedule will take place at the river. The city council is a heavy favorite with their new big, bad and bodacious "Dragon" boat to beat all comers in the city department division race. The "Dragon" will be waiting at the finish line to feast on the half-sunken carcasses of their competition as they slowly float by. Four council members, to include myself, will be rowing the "Dragon".  Come and have a laugh and see who wins, sinks or never makes it from the dock.
There will be plenty of music, food and fun for everyone. Around dark on Saturday, a lighted boat parade will also take place.
So come on down and hopefully the rain will stay away. Check out this website for more details: www.clarksvilleriverfest.com
Hope to see you there.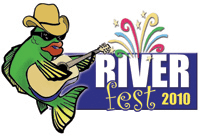 In honor of the nine year anniversary of the September 11th attacks, a remembrance ceremony will be held from noon to 12:30pm Saturday, September 11th at Riverfest on the Bud Light Stage. Join us as we remember those who lost their lives during the September 11th tragedy and pay tribute to those who defend our freedom every day.
The 101st Airborne Division Band will take the stage to perform following a speech by City Councilman Deanna McLaughlin. The Clarksville Police Department, Clarksville Fire Rescue Honor Guard, and the Clarksville Police Department Chaplain will all take part in this moving and patriotic ceremony.
For more details on the remembrance ceremony, please contact the Clarksville Parks and Recreation at 931-645-7476 or visit, www.cityofclarksville.com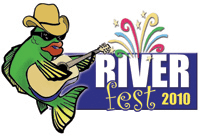 On Saturday, you'll definitely want to include sunscreen, sun glasses and liquid refreshment in your travel gear for Riverfest, but planning ahead can include more.
The way to get the most out of your fun is to study the offerings carefully before you leave home. Our web site provides a comprehensive list of all the activities. You can print these off and circle the ones that work for you. «Read the rest of this article»