by Councilman Bill Summers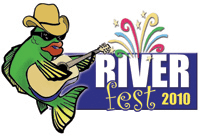 Just a reminder that Riverfest starts today and runs through tomorrow.
 
Tomorrow morning, around 9:30am, the annual cardboard racing schedule will take place at the river. The city council is a heavy favorite with their new big, bad and bodacious "Dragon" boat to beat all comers in the city department division race. The "Dragon" will be waiting at the finish line to feast on the half-sunken carcasses of their competition as they slowly float by. Four council members, to include myself, will be rowing the "Dragon".  Come and have a laugh and see who wins, sinks or never makes it from the dock.
There will be plenty of music, food and fun for everyone. Around dark on Saturday, a lighted boat parade will also take place.
So come on down and hopefully the rain will stay away. Check out this website for more details: www.clarksvilleriverfest.com
Hope to see you there.