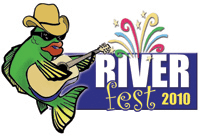 The rock band Lucky Drag preformed on the Mary's Music stage at the Clarksville's 2010 Riverfest Celebration. The Nashville based band  features lead singer Erik Hendrickson,  Jason Yates  on bass, Danny Berrios on drums, and with "more-than-occasional help" from Denny Smith on the guitar. According to their web site, "If you like your guitars loud, your choruses yelled, and silly pop songs wrapped in a loud package… Lucky Drag is for you."
The Mary's Music stage was was produced by The Coup (819 Crossland Ave). The Coup  is a restaurant and music venue, and is a popular hangout for the younger crowd in Clarksville, TN.
About the Coup
The Coup is a 3,600 square foot, all-ages, DIY entertainment venue and now a RESTAURANT located in downtown Clarksville, TN. They have 2 stages, wireless internet, video games, movies and more! The Coup is proud to support local art, local musicians, local business, and local growers. Damn the man! The Coup menu consists of the healthiest meals with vegan and vegetarian options. Their hipster beer selection includes: PBR tallboys, Guiness, New Castle, Red Stripe, Blue Moon, XX Dos Equis, 4 Loko, Yeungling, , and Highlife. Come check out the vibe, listen to eclectic music, eat healthy, grab a beer, and be around people that hold a common interest- community and culture through open-mindedness. You can follow them via Facebook, Myspace, and Twitter.
Sections
Arts and Leisure
Topics
Riverfest 2010, The Coup