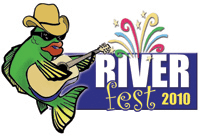 A former resident of the Boston and Washington, D.C. areas, I have been fortunate to see some great artworks in my life. I've also witnessed the recent "Emperor's New Clothes" variety (otherwise called "modern art" by some). My feelings towards some of the obscenities fostered on the public in recent years as "art" cannot be printed in this format. One only has to walk through the National Art Gallery where the display is chronological to see how talent somehow was replaced with publicity stunts to see how some artists have sold their souls to pure unadulterated "selling a bill of goods to the unsuspecting" to see what I mean.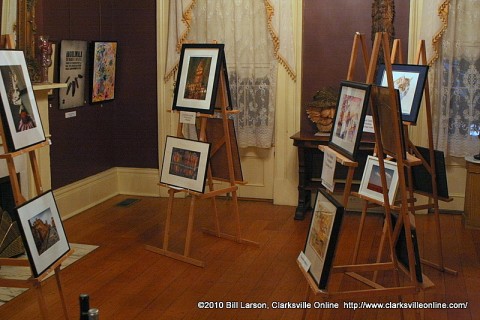 Leaving that type of discussion behind, it was a delight to see Tour d'Art, the three shows that Clarksville area artists presented at Riverfest. Here was a selection of truly talented photographers (both traditional and digital), mixed media and collage artists, painters, sculptors, and artists who could actually draw with realism! For as little as $25, one could buy work that not only had potential for growth as investment but would be a joy to live with for years to come!
My cousin, Jerry Church, and I started our art trek at Clarksville's Downtown Artists Co-op where the Senior Citizen Art Exhibit was mounted.
Best of Show went to Mark Griggs for photography of "Shaker Village."
The first place winners were:
Photography: LuAnnette Butler, "What's up, Friend"
Painting: Mary Lou Baggett, "Colorful Zinnias"
Watercolor: Karen Elliott, "Texas Cactus"
Drawing: Laverne Yates, "Kitty Violation"
Drawing on glass: Alice Coons for "Iris"
3D-Fiber Art: James Holland, "Rooster," a counted cross-stitch design
The senior awards were presented by Tonya Vaden, Deputy Director of Administration for Parks and Recreation. Ruth Burks Crnkovich of Burns, Tennessee was Juror for the show. Special thanks were extended to the Downtown Artists Co-op, Arts & Heritage Development Council, Carolanne Haggard, Rebecca Cowling and Beverly Parker.
On hand as a guest was Gregg Schlanger, Chairman of the Art department at APSU. He mentioned an up-coming alumni art exhibit that is a not-to-be missed event coming up later this Fall.
Also in attendance was Dr. Dixie Webb, Dean of College of Arts and Letters. Dr. Webb is not only a Professor of Art History but is a quilter of some renown.
Our next stop was the Smith-Trahern Mansion at 311 N. Spring Street, where the Fine Art Exhibit, Amateur and Professional Division, was on display. We arrived just as photographer Beverly Parker was presenting the awards.
Best of Show want to Grant Schryver for "The Light at the End of the Tunnel," a digital photograph taken in the First Presbyterian Church. Grant, who just began his college career at University of Tennessee—Chattanooga, is a former photography student of Piper db Bell at Clarksville Academy. He said he had gone into the church to photograph it because he is a member there. After taking pictures of the whole sanctuary, Grant was about to leave.
"I thought I was done but I saw that the light was coming through at the end of the hallway and it was really, really nice. I stood on the stairs to take the picture and then switched it to a sepia tone when I got home," Grant remembered. "I had no idea that it had won Best of Show until I got here tonight. I had already been home two weekends in a row and hadn't really planned to come home this weekend, but someone called my parents and told them it would be very special if I could attend the exhibit tonight. I had been at the show in the afternoon and was happy that I had received Honorable Mention for 'Reflection of the Past,' so I was totally surprised when I found out tonight about the Best of Show award."
Juror Ruth Burks Crnkovich liked the photograph so much that she purchased it for her own collection.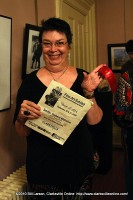 In the Amateur Division, the following first prizes were given:
Digital Photography: Jim Alexander, "Not in Lenin's Shadow"
Film Photography: Winnie Bagley, "Fairground III"
Drawing: George Harrison, "Almost Home"
Painting and Watercolor: Donna Borris, "Key West Cruise"
3D/Fiber Art: Mike Davis: "Mountain Sentry" (sculpture)
Mixed Media/Print Collage: Deana Coppedge, "Wooden Watermill"
In the Professional Division, the following first prizes were given:
Digital Photography: Theresa Biermann, "Garden of Light"
Film Photography: Malcolm Glass, "Walls"
Drawing: Linda Pierce, "Abundance"
Painting and Watercolor: Kris Six, "Studies in Red"
3D/Fibert Art: Carolann Haggard, "LaLuna"
Mixed Media/Print Collage: Kimberly Santiago, "True Believer"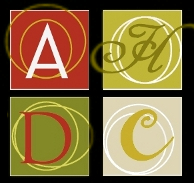 Special thanks went to the Smith-Trahern Mansion, Beverly Parker, Legends Bank, the Arts & Heritage Development Council, F&M Bank, Neal-Tarpley Parchman Funeral Home, Planter's Bank, The Choppin' Block, Chili's, Floral Expressions, Kay Lamirande, Al and Betty Clark, Guy Bozard, Gabriele Wardeiner, and many volunteers.
A number of the exhibits were purchased by several of the sponsors of the show. The show was heavily attended with a reception from 6:00 to 8:00 p.m.
I enjoyed meeting artists, Professor Stuart Bonnington and his wife Peggy, who is a friend on my Facebook page. Peg and I had met only on line when I was trying to search out the artist of a painting I had purchased in Clarksville a few months ago.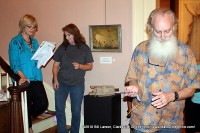 It was also a pleasure to see Malcolm Glass, my former American Literature professor from the olden days of my attendance at APSU. He immediately knew the year of the class when I reminded him of a terrible accident that had occurred outside the building when a student dropped what he believed to be a defunct hand grenade only to find out that it wasn't.
The Customs House Museum & Cultural Center having been closed on Friday night at 6:00 p.m. before we began our tour, Jerry and I went to see the High School Art Exhibit there on Saturday morning. This year's exhibit featured about 155 entries.
Best of Show went to Nicole Santiago of the Academy for Academic Excellence (a private school in Clarksville) for "Correspondence (the Great Wait)," a painting of various forms of communication.
First prizes went to the following:
Photography: Ben Marshall, Clarksville Academy, "Lonely"
3D/Sculpture: Russell Buzzard, Christian County High School, "My Welding Swag Yo!"
Painting: Paige Smith, Clarksville High School, "Eternal Sunshine for the Spotless Mind"
Drawing: Kory Polley, Christian County High School, "Man in the1920's"
Mixed Media/Collage: Aaron Schmittou, Montgomery Central High School, "DHUUMAH"


Special thanks went to the Customs House Museum & Cultural Center, Arts & Heritage Development Council, CDE Lightband, Ellen Kanervo, Terri Jordan, Randy Spurgeon, Chick-fil-A, and many volunteers. Also a special thank you went to each art teacher for inspiring their students to excellence.
I encourage everyone to support the arts community here. The talent is unlimited and viewing the work of local artists will enrich your life immeasurably.
Photo Gallery
For more images of the 2010 Riverfest Celebration visit Discover Clarksville.