Topic: Winnie Bagley
Clarksville, TN – After hundreds of artists had their works of art on display at two locations in downtown Clarksville, then judged by artist Mary Addison Hackett, winners were awarded at Clarksville Riverfest's Tour d'Art Receptions held Thursday, September 4th and Friday, September 5th, 2014.
Over $2,500 in prizes were awarded.
The competition included five categories: Photography & Digital Images, Sculpture, Painting, Mixed Media/Collage, and Drawing. Monetary awards are given to first through third place in each category (for each division) and a Best of Show Award.
«Read the rest of this article»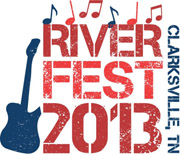 Clarksville, TN – Every year, Clarksville's Riverfest Tour d'Art exhibits feature the talents from artists across the Clarksville-Montgomery County area.
There are three divisions; the Senior (Downtown Artists Co-op), the High School (Customs House Museum) and the Amateur and Professional Divisions (Smith-Trahern Mansion).
After hundreds of artists had their works of art on display at various locations in downtown Clarksville, then judged by artist Dane Carder, winners were awarded at the Tour d'Art Receptions, Friday, September 6th, 2013. «Read the rest of this article»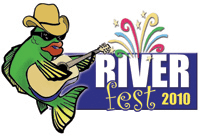 A former resident of the Boston and Washington, D.C. areas, I have been fortunate to see some great artworks in my life. I've also witnessed the recent "Emperor's New Clothes" variety (otherwise called "modern art" by some). My feelings towards some of the obscenities fostered on the public in recent years as "art" cannot be printed in this format. One only has to walk through the National Art Gallery where the display is chronological to see how talent somehow was replaced with publicity stunts to see how some artists have sold their souls to pure unadulterated "selling a bill of goods to the unsuspecting" to see what I mean.
«Read the rest of this article»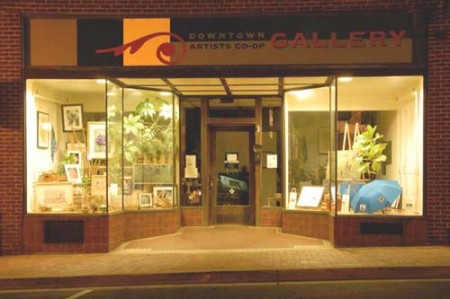 The Downtown Artists Cooperative will host a  group show, "Les Fauves Clarksville",  which will hang in the DAC Gallery, 96 Franklin Street, Historic Downtown Clarksville,  from January 8th-31st.
An opening  reception will be held Thursday  night, January 8th, from  5:00-7:00 p.m.
The fifteen artists showing are: Terri Jordan, Tammy Dohner, Malcolm
Glass, Mitzi Cross, Peggy Bonnington, Gail Meyer, Heidi Hopkins,
Connie Livingston-Dunn, Winnie Bagley, Lynn Stanley, Kathleen Chute,
Martha Yanchyshyn, Eunice Kern,   Betty Liles, and Nada Fuqua.
If you can't make the opening reception, please stop by some other time during the month of January.  Gallery hours are noon to 6:00 p.m. Wednesday through Saturday.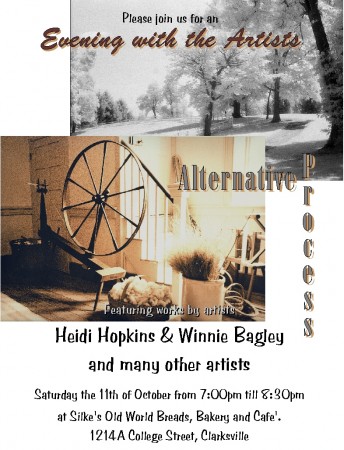 An Evening With the Artists will showcase the work of Heidi Hopkins and Winnie Bagley, along with selections from numerous other area artists, at Silke's Old World Breads, Bakery and Cafe from 7-8:30 p.m. Saturday, October 11.  Silke's is located at 1214A College Street.
Silke's, one of the city's treasures and pleasures, is more than a place for superb food, pastries and breads; it is a also a gallery displaying the paintings, photography, pottery and other items created by artists from Clarksville and its surrounding community.
In addition to the comfortable main dining area, there is a small gallery room that can comfortably accommodate 16-20 diners, and another table for 6-8 people just inside the main entrance. Each of these comfortable areas is overflowing with art to be be enjoyed and savored just as much as the food pouring forth from Silke's kitchens.
The public is invited to meet the creators of the new works now displayed at Silke's.