Clarksville, TN – After hundreds of artists had their works of art on display at two locations in downtown Clarksville, then judged by artist Mary Addison Hackett, winners were awarded at Clarksville Riverfest's Tour d'Art Receptions held Thursday, September 4th and Friday, September 5th, 2014.
Over $2,500 in prizes were awarded.
The competition included five categories: Photography & Digital Images, Sculpture, Painting, Mixed Media/Collage, and Drawing. Monetary awards are given to first through third place in each category (for each division) and a Best of Show Award.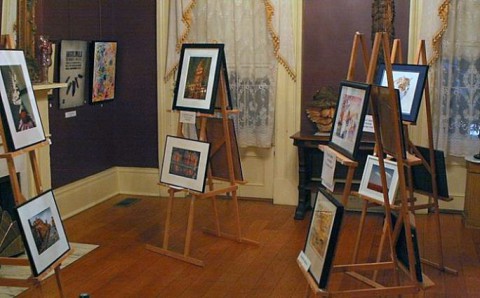 The High School Division exhibit, sponsored by CDE Lightband will be hosted by the Customs House Museum and Cultural Center and Arts and Heritage Development Council September 6th from 9:00am to 5:00pm.
The Amateur, Professional, and Senior Division exhibit, sponsored by Legends Bank, will be hosted at the Smith-Trahern Mansion September 6th from 9:00am to 5:00pm.
The following is the list of winners for each of the three categories:
Am/Pro Best of Show
CarolAnn Haggard-Ghelardini, "Healer's Cabinet – 3D/Fiber Art
F & M Bank
Tess Lankovich, "The Moment Is Here"
Donna Borris, "Three Skiffs"
Legends Bank
Beverly Parker, "Riding The Rails"
Planters Bank
Kay Lamirande, "Joyous Road"
Neal-Tarpley Parchman Funeral Home
Bob Privett, "Dickson Sadler Drug Store"
Kimberly Caldwell, "Heavenly View"
Pam Reeves, "The Pond"
Professional Division
Digital Photography
First  — Grant Schryer, "Leaf"
Second — Cliff Whittaker, "Magnolia In Spring Rain"
Third  — Sara Straussberger, "Pinelight"
Hon. Mentions — Heidi Hopkins, "Curves" and Samantha Klinlenberg, "Tobacco"
Film Photography
First  — Susan Bryant, "Italian Gesture #25"
Second — Malcom Glass, "His Best Friend"
Third  — Susan Bryant, "Italian Gesture #18"
Hon. Mentions — Malcolm Glass, "Sunback" and Kathryn Mitchell, "My Hero"
Drawing
First  — Brandt Hardin, "Geurnica in Blues & Roses"
Second — Bob Privett, "Clarksville High School 1907"
Third  — Peggy Bonnington, "Last December Tree"
Painting & Watercolor
First  — Tess-Marites Lankovic, "The Western Moment"
Second — Leah Foote, "Ode to Color"
Third  — Joan Putnam, "Still Standing"
Hon. Mention — Eunice Kern, "Gone But Not Forgotten"
3D/Fiber Art
First  — Guy Bozard, "Cherry Bowl"
Second — Ramiro Santoyo, "Flames"
Third  — Kelli Rohling, "Green Gemshorn In D Major"
Hon. Mention — Terry Ellis, "Y Knot Oak"
Mixed Media/Print Collage
First  — Leslie Campbell, "Summer Cicada Goddess"
Second — Billy Renkl, "June 13, 1851:Other Chart Yet More Universal"
Third  — Cynthia Sukowatey, "American Landscape: Palmyra, TN"
Hon. Mentions — John Edmondson, "Taps For Papa" and Steven Walker, "Flutter Bye Dream"
Amateur Division
Digital Photography
First  — Rob Franklin, "Summer Afternoon In Music City"
Second — Regina Jones, "The Tower"
Third  — CJ Powers, "Some One To Lean On"
Hon. Mention — David Magers, "Pondering Pelican"
Film Photography
First  — Winnie Bagley, "Cowgirls"
Second — Carl Papenfuss, "Back Door"
Drawing
First  — David Carney, "Tobasco"
Second — Stephanie Taylor, "For Her Art"
Third  — Aaron Lax, "War Weary"
Hon. Mention — Paula Edwards, "Mr. Louie's Truck"
Painting & Watercolor
First  — Paul Jones, "Close Call"
Second — Donna Borris, "Today's Catch"
Third  — Cliffon Malone, "Le Bayou Bash"
Hon. Mentions — Pam Reeves, "Morning Mist" and Shery Cooley, "Tiger Lily"
3D/Fiber Art
First  — Russell Bales, "Go Baby Go…"
Second — Kay Papenfuss, "Personality Of A Line"
Third  — Kimberly Caldwell      , "Darya The Dragon Fly"
Hon. Mention — Vicky Clinard, "Leather Necklace"
Mixed Media/Print Collage
First  — Winnie Bagley, "Dancin…Dancin"
Second — Kay Papenfuss, "Sunrise Sunset"
High School Division
Best of Show
Samantha Espinoza, "Amelia Earhart" – 3D/Sculpture
Museum Choice Award
Alec Oglesby, "Dragon" – 3D/Sculpture
Photography/Digital Imagery
First Place  — Ritika Ramchandani, Clarksville Academy – "The Looking Eye
Second Place — Sedona Tooley, Clarksville Academy – "Indigo"
Third Place  — Joyce Boyles, Clarksville High School – "Work of Ant"
Drawing
First Place  — Elijah Radford, Christian County High School – "Circa 1956"
Second Place — Rachel Holmes, Christian County High School – "Louise"
Third Place  — Brian Engel, Clarksville High School – " Self Portrait"
Honorable Mentions — Nikita Tramill, Kenwood High School – Untitled and Brianna Cottrell, Christian County High School – "Maddy"
Mixed Media/Print Collage
First Place  — McKenzi Hosale, Dickson High School – "Being Normal is Boring"
Second Place — Ami Ogawa, Hopkinsville High School – "Self Portrait"
Third Place  — Elizabeth Buchanan, Christian County High School – "Everything Beautiful Must Perish"
Painting
First Place  — Rachel Holmes, Christian County High School – "Cha'risa"
Second Place — Sunny Hyde, Clarksville High School – "Japanese Watercolors"
Third Place  — Jessica Reneer, Christian County High School – Untitled
3D/Sculpture
First Place  — Annie Lindsey, Kenwood High School – "The Great Wave of Kanagawa"
Second Place — Alec Oglesby, Clarksville High School – "Dragon"
Third Place  — Kayleigh Baird, Montgomery Central High School – "Guided by Fireflies"
Senior Citizen's Division
Best of Show
Mary Lou Baggett, Painting/Watercolor – "My Favorite Trees"
Drawing
First Place  — Vaughn Rushing – "The Family"
Second Place — Vaughn Rushing – "Alden"
Painting/Watercolor
First Place  — Mary Lou Baggett – "A Big Red Rose"
Second Place — Mary Lou Baggett- "Gratitude Bouquet"
Photography/Digital
First Place  — Mark Griggs – "Two Sisters"
Second Place — Bob Gandy – "Looking Through the Window"
Third Place  — Bob Gandy – "Into the Fog"
For more details on the Tour d'Art, please visit www.clarksvilleriverfest.com