APSU Sports Information Office

Murfreesboro, TN – 'Get forward!'
Those words or some derivation are shouted on soccer fields all over the world, with a coach urging their offense to get into the attacking third. Those words rang out several times Friday in Austin Peay's 1-0 loss to Kennesaw State in the opening game of the Blue Raider Classic.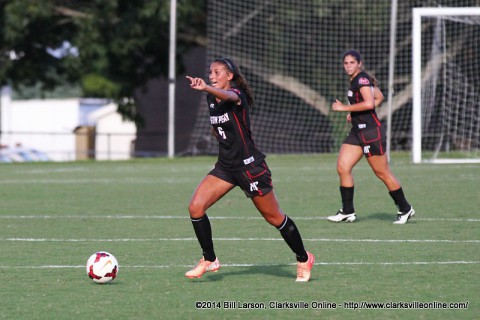 Austin Peay (1-4-0) has now been held without a goal in each of its four regular-season losses and in both exhibition matches. Kennesaw State improves to 2-2-1.
The Lady Govs were held without a shot during the first 45 minutes, with the Owls taking 12 in that time, including five that found their way on frame. However, junior keeper Nikki Filippone was able to make the stop on each Kennesaw State attempt in the first half.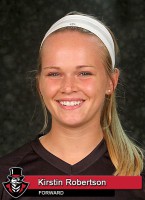 Freshman Kirstin Robertson finally took Austin Peay's first shot in the 54th minute.
Kennesaw State broke through in the 56th minute. A Julia Nelson lob into the box found the foot of Marit Sandtroeen, who slipped in behind the Lady Govs defense and found herself all alone to deposit the goal beyond the outstretched hands of freshman Lindsey Todd, who came on at halftime for Filippone in net.
In the final 30 minutes, Austin Peay's offense kicked into gear, with the combination of freshmen Caroline Wistrom and Sophia Fabbro teaming with sophomore Gina Fabbro to get into the attacking third for multiple chances.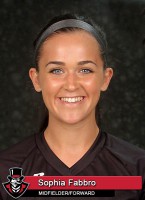 The Lady Govs best opportunity to score came in the 61st minute, when the younger Fabbro found herself with a chance on net and no keeper to beat after a poor challenge. However, Fabbro was forced to race the ball and defenders to the end line and her touch was pushed wide of the net.
In all, Austin Peay was outshot 22-5 on the day. Over the last three matches, opponents have outshot the Lady Govs at a 4-to-1 clip (60-15).
Todd was saddled with her second loss, making one save but allowing the contest's lone goal. Olivia Sturdivant made two saves in victory for the Owls.
Austin Peay returns to Murfreesboro Sunday to close out the Classic against host Middle Tennessee. First kick is scheduled for 5:00pm.
Box Score
Kennesaw State (2-2-1) vs Austin Peay (1-4-0)
| Goals By Period | 1 | 2 | Total |
| --- | --- | --- | --- |
| Austin Peay | 0 | 0 | 0 |
| Kennesaw State | 0 | 1 | 1 |
| Goal | Time | Team | Goal Scorer | Assists | Description |
| --- | --- | --- | --- | --- | --- |
| 1. | 55:32 | KSU | MARIT SANDTROEEN (1) | JULIA NELSON | *cross from left head left netting |
Austin Peay
Kennesaw State
| ## | Goalie | Minutes | GA | Saves |
| --- | --- | --- | --- | --- |
| 19 | OLIVIA STURDIVANT | 90:00 | 0 | 2 |
Pos
##
Player
Sh
SOG
G
A
Fouls
M
5
MARIT SANDTROEEN
1
1
1
0
0
F
7
MAGGIE GAUGHAN
4
3
0
0
0
M
8
HANNAH CHURCHILL
1
0
0
0
0
M
10
MALI KOKVOLL
1
0
0
0
0
D
11
ALMA GARDARSDOTTIR
0
0
0
0
0
D
13
SHANNON DRISCOLL
2
0
0
0
0
GK
19
OLIVIA STURDIVANT
0
0
0
0
0
M
20
JULIA NELSON
2
0
0
1
0
F
21
DANIELLE GRAY
4
1
0
0
0
D
22
ABBY ROTH
0
0
0
0
0
D
27
BRITTNEY REED
4
1
0
0
0
–Substitutes–
TM
TEAM
0
0
0
0
7
2
IDA HEPSOE
0
0
0
0
0
6
NICOLE CALDER
1
0
0
0
0
9
MONICA HERRERA
0
0
0
0
0
12
CASSIDY KEMP
2
1
0
0
0
23
IYANI HUGHES
0
0
0
0
0
Totals
22
7
1
1
7