Topic: Heidi Hopkins
Clarksville, TN – After hundreds of artists had their works of art on display at two locations in downtown Clarksville, then judged by artist Mary Addison Hackett, winners were awarded at Clarksville Riverfest's Tour d'Art Receptions held Thursday, September 4th and Friday, September 5th, 2014.
Over $2,500 in prizes were awarded.
The competition included five categories: Photography & Digital Images, Sculpture, Painting, Mixed Media/Collage, and Drawing. Monetary awards are given to first through third place in each category (for each division) and a Best of Show Award.
«Read the rest of this article»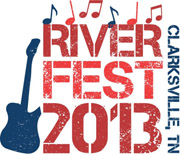 Clarksville, TN – Every year, Clarksville's Riverfest Tour d'Art exhibits feature the talents from artists across the Clarksville-Montgomery County area.
There are three divisions; the Senior (Downtown Artists Co-op), the High School (Customs House Museum) and the Amateur and Professional Divisions (Smith-Trahern Mansion).
After hundreds of artists had their works of art on display at various locations in downtown Clarksville, then judged by artist Dane Carder, winners were awarded at the Tour d'Art Receptions, Friday, September 6th, 2013. «Read the rest of this article»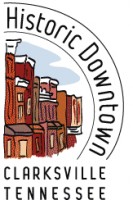 You're invited to join the merchants of Historic Downtown Clarksville for The monthly Art Walk, on November 5th from 5 – 8 p.m.
The December First Thursday Art Walk is bigger than ever this month with exhibits from over 40 artists in 9 different venues, including the Customs House Museum, and the brand new Austin Peay Downtown Art Gallery.
Come spend an delightful evening with many of the best artists in Clarksville-Montgomery County.
Kendall Welsh from ARTIfacts was kind enough to send us this information about December's artistic extravaganza. «Read the rest of this article»
When you talk to people about the arts in Clarksville, Montgomery County Tennessee you will frequently find Silke Tyler's name mentioned. Who is she? She is the proprietor of Silke's Old World Breads located at 1214A College Street, she is also the hostess of the wonderful bi-monthly "Evening with the Artists" art exhibition. The next show will be held on Saturday August 15th from 6:30pm till 8:00pm. There is no cost for admission, and Silke provides her delicious food as refreshments.
The "Evening with the Artists" event brings together Silke's great food, outstanding friends and acquaintances, and some of the finest art and artists in our community. This month the featured artist will be Richard Hogan. Previous featured artists included Jim Hancock and his Mediterranean reflections, the alternative process images of Heidi Hopkins and Winni Bagley, and the expert photography of Alan Goldstein, among many others; which unfortunately are too numerous to be able to mention all of them here.
One cannot be a true connoisseur of art in our community, without attending Silke's art events. We hope that you will attend! «Read the rest of this article»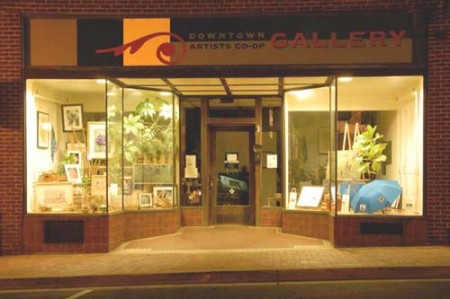 The Downtown Artists Cooperative will host a  group show, "Les Fauves Clarksville",  which will hang in the DAC Gallery, 96 Franklin Street, Historic Downtown Clarksville,  from January 8th-31st.
An opening  reception will be held Thursday  night, January 8th, from  5:00-7:00 p.m.
The fifteen artists showing are: Terri Jordan, Tammy Dohner, Malcolm
Glass, Mitzi Cross, Peggy Bonnington, Gail Meyer, Heidi Hopkins,
Connie Livingston-Dunn, Winnie Bagley, Lynn Stanley, Kathleen Chute,
Martha Yanchyshyn, Eunice Kern,   Betty Liles, and Nada Fuqua.
If you can't make the opening reception, please stop by some other time during the month of January.  Gallery hours are noon to 6:00 p.m. Wednesday through Saturday.
Natural or unnatural beauty paralyzed and captured in time from behind a camera lens. The current exhibit of photography at the Customs House Museum is a photographic response to the challenge to interpret subject matter metaphorically and or literally in answer to the question: "What does the spirit of light mean to you as a photographer?"
The Friends of Photography's current show, Spirit of Light, will be exhibited through February 15.  «Read the rest of this article»
Not your typical house party, mind you, but a warm and cozy coffeehouse atmosphere that celebrated new artworks, friendship and great food. The viewing was fluid and inspiring as viewers discovered new delights from front to rear and back again.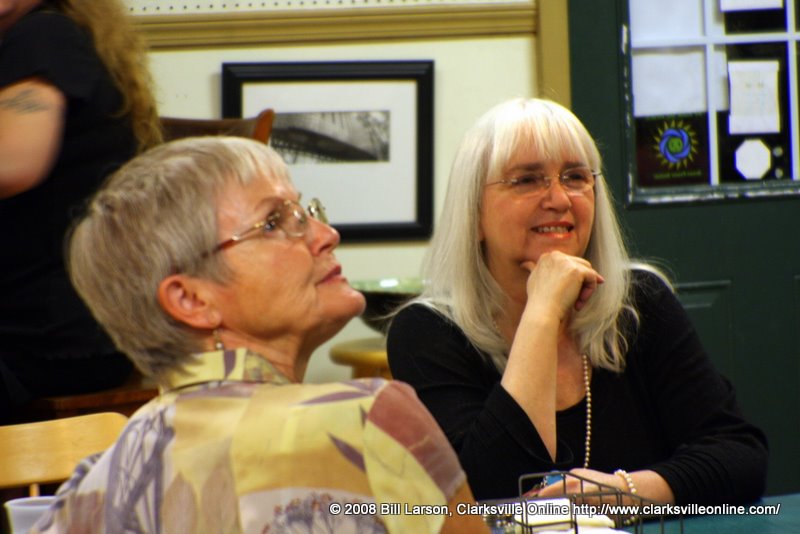 Saturday evening saw Clarksville's own Silke's Old World Breads open for a special occasion — its bi-monthly artwork installation known as 'An evening with the Artists."
This evening of free-roaming art viewing and appreciation was accompanied with a buffet of Silke's equally impressive and absolutely scrumptious food. This evening of art appreciation welcomes all art lovers. On Saturday night, that meant "standing room only." «Read the rest of this article»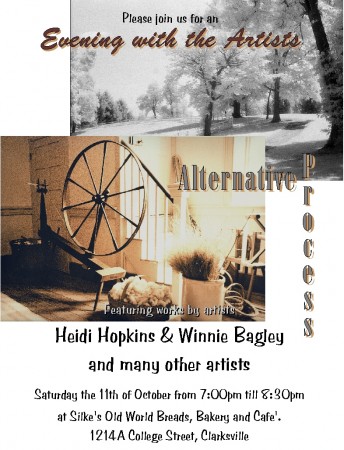 An Evening With the Artists will showcase the work of Heidi Hopkins and Winnie Bagley, along with selections from numerous other area artists, at Silke's Old World Breads, Bakery and Cafe from 7-8:30 p.m. Saturday, October 11.  Silke's is located at 1214A College Street.
Silke's, one of the city's treasures and pleasures, is more than a place for superb food, pastries and breads; it is a also a gallery displaying the paintings, photography, pottery and other items created by artists from Clarksville and its surrounding community.
In addition to the comfortable main dining area, there is a small gallery room that can comfortably accommodate 16-20 diners, and another table for 6-8 people just inside the main entrance. Each of these comfortable areas is overflowing with art to be be enjoyed and savored just as much as the food pouring forth from Silke's kitchens.
The public is invited to meet the creators of the new works now displayed at Silke's.