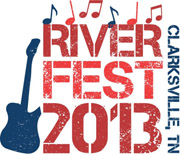 Clarksville, TN – Every year, Clarksville's Riverfest Tour d'Art exhibits feature the talents from artists across the Clarksville-Montgomery County area.
There are three divisions; the Senior (Downtown Artists Co-op), the High School (Customs House Museum) and the Amateur and Professional Divisions (Smith-Trahern Mansion).
After hundreds of artists had their works of art on display at various locations in downtown Clarksville, then judged by artist Dane Carder, winners were awarded at the Tour d'Art Receptions, Friday, September 6th, 2013.
The following is the list of winners for each of the three categories:
Am/Pro Best of Show
Billy Renkl, Untitled (Leaves) – Painting
F & M Bank
Tess Lankovich, "The Moment Is Here"
Donna Borris, "Three Skiffs"
Legends Bank
Beverly Parker, "Riding The Rails"
Planters Bank
Kay Lamirande, "Joyous Road"
Neal-Tarpley Parchman Funeral Home
Bob Privett, "Dickson Sadler Drug Store"
Kimberly Caldwell, "Heavenly View"
Pam Reeves, "The Pond"
Professional Division
Digital Photography
First Place – Larry Safko, "Waiting For Spring"
Second Place – Melanie Hildebrandt, "False Anticipation"
Third Place – Kim Balevre, "North Shore"
Honorable  Mention – Tanya Thorne, "Last Train To Clarksville"
Film Photography
First Place – Heidi Hopkins, "Desolate"
Second Place – Susan Bryant, "Tellurian"
Third Place – Mitzi Cross, "Heron Of The Fog"
Honorable Mentions – Malcolm Glass, "Sentinals", Susan Bryant, "Globe Collection"
Drawing
First Place – Janet Felts, "Garden Wall"
Second Place – Bob Privett, "Dickson-Sadler Drug Company"
Third Place – Peggy Bonnington, "Man In The Hat"
Honorable Mention – Monica Dahl, "Clarksville's Canola Fields
Painting & Watercolor
First Place – Billy Renkl, Untitled Vine
Second Place – Joan Putnam, "Iris"
Third Place – Janet Felts, "The Empty Chair"
Honorable Mentions – Lynne Griffey, "The Lillian", Tess Lankovich, "The Moment Is Here", Bettye Shelly, "The Horse & The Hawk"
3D/Fiber Art
First Place – Steven M. Walker, "Motion"
Second Place – Peggy Bonnington, "Print Tray Plus"
Third Place – Heike Sichterman, "Vintage Necklace w/Clip on Earrings
Honorable Mention – Guy Bozard, "Cherry Bowl"
Mixed Media/Print Collage
First Place – Bettye Shelly, "Stop & Go"
Second Place – Dolly Georgieva-Gode, "Escape"
Third Place – Leah Foote, "Cally Lily Dream"
Honorable Mention – Steven M. Walker, "Bump"
Amateur Division
Digital Photography
First Place – Elizabeth Asheley Callen, "Music City Letterpress"
Second Place – Karl Papenfuss, "Boats on Lake"
Third Place – Grant Schryver, "Caught In the Moment"
Honorable Mention – Rob Franklin, "Blue Drop", Elizabeth Asheley Callen, "Little Big Town-Nashville", Julie Elder, "Cheerful"
Film Photography
First Place – C.J. Powers, "Strength"
Second Place – Winnie Bagley, "Reelfoot Lake Hogal Fisheye"
Third Place – C.J. Powers, "Dunlop Lane, Clarksville"
Honorable Mention – Erika L. Lopez-Smith, "Joshua's Peace"
Drawing
First Place – Charlotte Nelms, "River Goose"
Second Place – Paula Baggett Edwards, "Celestial Cows"
Third Place – Stephanie Taylor, "Shelling Competition"
Honorable Mention – David Carney, "Guardian"
Painting & Watercolor
First Place – Kay Lamirande, "Joyous Road"
Second Place – Donna Borris, "Red's Eats"
Third Place – Margie Ann Head, "The First Snow"
Honorable Mentions – Margie Ann Head, "The Clarksville Belle River Boat", Mary Hoffpauir, "Early Bird Gets the Worm"
3D/Fiber Art
First Place – Mike Davis, "Foot Bowl"
Second Place – Gabriel Wardeiner, "Keffiyeh Wrap"
Third Place – Mike Davis, "Face Plate"
Honorable Mention – Kay Papenfuss, "No Brain, No Headache"
Mixed Media/Print Collage
First Place – James Davis, "Hannah"
Second Place – Winnie Bagley, "Sunflower"
High School Division
Best of Show
Brittney Reynolds, Kenwood High School- "Egyptian Emulation"
Museum Choice Award
Rachel Holmes, Christian County High School- Untitled
Photography/Digital Imagery
First Place – RoseMary Turner, Clarksville High School- "Ariel"
Second Place – Seth Albright, Clarksville High School- Untitled
Third Place – Samantha Adams, Clarksville High School- Untitled
Honorable Mentions – RoseMary Turner, Clarksville High School- "Wind Chimes
Drawing
First Place – Slayden Semore, Dickson County High School- "Goodbye Kitty"
Second Place – Brittney Reynolds, Kenwood High School- "Dew Drops"
Third Place – Melanie Shadix, Rossview High School- "Hidden Tiger"
Honorable Mentions – Tyra Elliot, Kenwood High School- "Bruno", Leah Billingsby, Dickson County High School- "The Beatles", Jordan Jenkins, Christian County High School- "Oswald", Rachel Holmes, Christian County High School- Untitled
Mixed Media/Print Collage
First Place – Nadia Marrero-Silva, Kenwood High School- Untitled
Second Place – Jax Carter, Dickson County High School- "America"
Third Place – Robbie Selvidge, Dickson County High School- "My Favorite Drink"
Honorable Mentions – Esther Granda, Kenwood High School- "Endless Trip"
Painting
First Place – Margaret Handley, Northwest High School- "Spring Has Come"
Second Place – Margaret Handley, Northwest High School- "A Woman and Her Horse"
Third Place – Mason Collins, Montgomery Central High School- "Wild Sihouette"
Honorable Mentions – Alina Hunter-Grah, Montgomery Central High School- "Under the Pier", Alyssa Garber, Northwest High School- "Beauty is in the Eye of the Time"
3D/Sculpture
First Place – Alina Hunter-Grah, Montgomery Central High School- "Flapperistic"
Second Place – Melissa Daugherty, Dickson County High School- "Flower Mosaic"
Third Place – Allison Schmitton, Montgomery Central High School- "Ooh"
Honorable Mentions – Madison Setelin, Dickson County High School- "Mushu And The Cri-Ki Teaset"
Senior Citizen's Division
Best of Show
Vaughn Rushing, Drawing- "Maw-Maw"
Drawing
First Place – Vaughn Rushing- "Maw-Maw"
Second Place – Vaughn Rushing- "JD the Man"
Painting
First Place – Mary Lou Baggett- "Grandaddy's People"
Second Place – Mary Lou Baggett- "Gratitude Bouquet"
For more details on the Tour d'Art, please visit www.clarksvilleriverfest.com