Written by U.S. Army Sgt. Andrew A. Reagan
304th Public Affairs Detachment
*Journalist's Note: The information contained in this article is derived from the International Security Assistance Force's Reintegration Guide.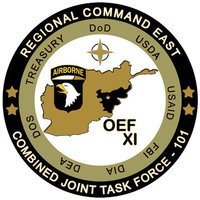 Bagram Airfield, Afghanistan – The Government of the Islamic Republic of Afghanistan recently launched the Afghan Peace and Reintegration Program. The goal is to reconnect members of the insurgency with Afghan communities and GIRoA through social outreach, economic programs and community development projects.
The program offers antigovernment combatants full recognition of their rights as Afghan citizens, a dignified way to renounce violence, and avenues to peacefully reintegrate into their communities.
The program is available to all persons and communities willing to live in peace and abide by the laws of Afghanistan.
"[The GIRoA is] trying to move to a post-conflict environment where they want former insurgents to stop fighting, go back to their communities and support the national government," said U.S. Marine Maj. Brent W. Stricker of Bakersfield, CA, Rule of Law Chief for Regional Command-East.
APRP: A GIRoA-led program
APRP is a GIRoA-led program executed by the Joint Secretariat, which is an interagency body with representation from several departments within GIRoA, including the Ministry of Defense, the Ministry of Interior and the National Directorate of Security.
The Joint Secretariat provides the coordinating function to bring all strands of the program together and resolve any issues. It also provides technical and financial support and political encouragement to the provincial and district level.
Three stages of activity
At the community and district level, the program focuses on local peace processes. These do not reward the insurgent or former combatant, but benefit all according to the needs of the community as determined by community elders.
"People need to understand, this is not surrender. This is not a way for the coalition forces to get your name and number and go get you, it's really not. This is not blanket amnesty, either. It's Afghan society trying to reconcile," said Stricker.
At the lowest levels, APRP focuses on three stages of activity: social outreach and negotiation, demobilization, and consolidation of peace.
Social outreach and negotiation: Under this stage, district and provincial leaders will conduct outreach to those who want to join the peace process and their communities.
Outreach involves the use of shuras to increase awareness of the program and promote peace and reintegration amongst villagers, community leaders, Afghan National Security Force partners and those in authority at district and provincial levels.
It is also essential to reach out to former combatants and their communities. This may involve mediators nominated by former insurgents.
Demobilization: This stage involves the individual's transition from insurgent to reintegree. It includes initial contact, assessment and vetting, registration and weapons management. It also involves the individual's renunciation of violence and his acceptance back into the community and the provision of political amnesty.
Initial contact: Reintegration is likely to begin with dialogue, either directly between former insurgent and community leaders, directly to GIRoA or through a mediator. It is also possible for contact to be made via the International Security Assistance Force. In these cases, a GIRoA link must be found since insurgents cannot reintegrate with ISAF.
Assessment and vetting: Once contact is made by a reformed insurgent wishing to reintegrate, vetting and assessment takes place. At this stage, the potential reintegree may have concerns over his security, GIRoA harassment and the prospect of reprisals. He may also be concerned about being accepted back into his community and about his immediate livelihood, such as housing, food and employment.
Furthermore, the community the former insurgent wants to reintegrate into will also have concerns. Its members will have to decide whether they are willing to permit the insurgent to return and whether they are willing to take responsibility and vouch for him.
Not every fighter will be accepted for reintegration and the MoI will conduct a vetting process. The MoI or NDS will take identifying information from the individual, such as biometrics, and share them with ISAF. The insurgent will also be interviewed to gather personal data, identify immediate humanitarian needs and grievances and confirm which community the potential reintegree wishes to return to and whether he will be accepted there.
Weapons management: Concurrent to vetting, weapons management will take place. This is the collection, registration, licensing and securing of weapons. However, surrendering weapons is not required for reintegration. The decision to return a weapon to the reintegree lies with the MoI.
Determination: Once vetting is complete, a decision on whether to accept the individual for reintegration will be made at the provincial level. If the decision is not unanimous, or if no provincial-level capability exists, the decision will be passed up to the Joint Secretariat.
Sustainment, security, monitoring and transition: Concurrently, provisions must be made to meet the immediate life support needs of the individual and any accompanying family. This includes food, accommodation and clothing.
Continued security will be key and is planned by ANSF in conjunction with district and provincial governors. The reintegree will undergo a transition program, which includes literacy, education and moderate religious instruction.
Reintegration shura and registration: The basic reintegration process is concluded by the reintegree being granted political amnesty and being issued an identification card by the MoI, guaranteeing him freedom of movement and freedom from arrest for past armed actions against GIRoA. He is then formally accepted into his community in a Community Reintegration Shura.
Consolidation of peace: Communities, districts and provinces will be able to select from several recovery options. These options include community recovery, integration into the ANSF, vocational and literacy training, moderate religious education and transfer to a Public Works Corps or Agriculture Conservation Corps.
"(The ISAF) portion of the program is supposed to be community development projects," said Stricker. "The idea is you're going to give them a skill, an economic opportunity and moderate religious instruction. (We're) trying to improve these (ex-combatants) through a wide spectrum of training and economic programs."
Reintegration is an essential part of the counterinsurgency campaign and coalition forces and GIRoA will pursue it alongside their ongoing efforts to protect the Afghan people, enable the ANSF, support the extension of governance and improve socio-economic development.