Clarksville, TN – On November 4th, around 2:52pm, officers responded to a residential burglary call at Sharpie Drive.  When Officer Alex Koziol arrived, he found the front door of the residence had been kicked in. A witness told Officer Koziol they saw a white Taurus and two men who had a TV setting outside of the vehicle. The men looked like the individuals that helped the Sharpie Drive resident move in a few days earlier.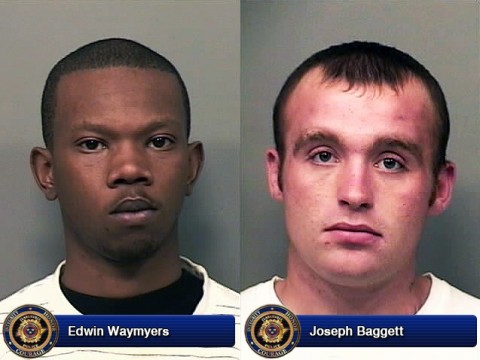 The suspect information was disseminated over the airways. Officer Coz Minetos located the vehicle at a gas station on Rossview Road. The witness was able to identify the vehicle and two males as the ones that were at the Sharpie Drive residence. Detective Raymond Colon took over the investigation. His investigation revealed that two men took a big screen TV from inside of the residence and tried to load the TV into the Taurus. The TV would not fit into the car so it was taken back into the house.
Instead, the two men then took a 37 inch TV out of the house and loaded it into the car and left the scene.  
Edwin Waymyers
Name: Edwin Denzell Waymyers (B/M)
DOB: 5/1/90
Given Address: 2071 Rotary Lane, Clarksville
Charged With: Aggravated Burglary
Bond: $25,000.
Joseph  Baggett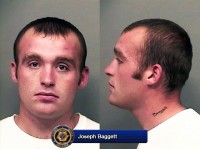 Name: Joseph William Baggett (B/M)
DOB: 2/16/89
Given Address: 903 Wellington Drive, Clarksville 
Charged With: Aggravated Burglary
Bond: $25,000.