Replaces Ribbon Cutting with Spectacular Dance Performance & Indoor Pyrotechnics

Nashville, TN – Everything about the newly reopened Gaylord Opryland Resort & Convention Center is greater than before, including how they celebrate the facility's return to life after a record-breaking flood left much of Nashville, Tennessee, underwater. Rather than a traditional ribbon-cutting ceremony, Gaylord Entertainment chose to reopen its signature resort with an awe-inspiring display of modern dancers on wires over the crowd, indoor fireworks, and a spectacular array of pyrotechnics throughout the massive Delta Atrium.
Hotel guests and other invited dignitaries filled every seat, crowded the walkways, and leaned over banisters on the second and third floors to get a view of the majestic display. The ceremony on Friday evening was just one part of a three-day celebration designed to attract a national spotlight on the recovery of the resort and the entire city of Nashville after the unprecedented flooding in the first weekend of May, 2010.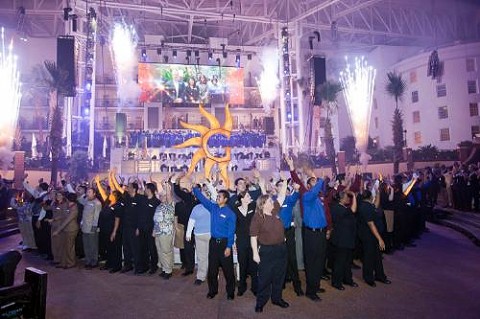 Gaylord Opryland invited hundreds of meeting planners, convention organizers, and other leaders in the travel industry to join the celebration. The company's mission was to showcase the unique culture and excitement of Music City and to drive business and leisure travel to Nashville for years to come.
In his remarks to the crowd, Gaylord Entertainment Chairman & CEO Colin Reed expressed his pride in entire staff at Gaylord Opryland as well as the entire city of Nashville:
"The road to recovery certainly hasn't been an easy one, but we're proud to be here today celebrating what is not only a special day for the Gaylord brand, but also the city of Nashville. 
"It's still difficult to describe the emotions I felt at sunrise on May third, when the first light revealed the water completely surrounding and breaching this magnificent hotel. But despite the devastation we witnessed, I never had any doubt that our company, with the support of our STARS and our community, would prove ourselves to be equal to this challenge. 
"Simply put, the speed and care with which our STARS and the entire Gaylord team responded was extraordinary. For many years, this hotel has been run and managed by some of the most passionate and caring individuals I have ever come across—from the folks cleaning the rooms, to those checking in guests, to the leaders making sure everything is working just right.
"We have the best workforce in our industry and the service excellence which has become synonymous with Gaylord Opryland and the Gaylord brand has allowed a very special culture to emerge.  And this culture was central in enabling us to transform this extraordinary challenge into an opportunity, and the results are here for you all to see. 
"Gaylord is in the business of people creating a greater sense of possibility.  We continuously strive to elevate the experiences of our customers and guests, and at the same time make it fun for our folks who call this place home.
"It's interesting to me how the despondency we felt in the days after the flood quickly transitioned into major silver linings. One example would be the spotlight we have found ourselves in as a city and a company. The media, the travel industry, and many of the nation's meeting planners have paid notice to us, and this has raised awareness. Fortunately for us, the spotlight has been focused upon the professional manner in which this community came together and managed the disastrous situation we faced.
"This is good for business, and I am convinced more people will come to Nashville as a consequence of the way our city and our company converted a disaster into an opportunity.
"In case it's not already clear, I couldn't be more proud of what we've accomplished.  But I am particularly proud to be associated with the folks that I am privileged to work with, our STARS, our leaders, and our board.
"Coming so far in so short a time as we did is impossible without a strong and focused leadership team.  It was one of the most rewarding experiences of my career to see our leadership, in addition to our STARS, rise to the occasion and go above and beyond all expectations.

"My promise to you is that when you come back to Gaylord Opryland, you will find the very best convention hotel in the world, serviced by the very best group of employees on the planet, situated in one of the funnest, safest, friendliest city in America.
"This is more than the reopening of a hotel.  Something greater is happening here.  It's a spirit of renewal that flows through each of us.  We invite you to join us in the days and months ahead as the unexpected officially opens the doorway to the unforgettable.
"It is with utmost pride that I say to you all: Gaylord Opryland, the nation's best convention hotel, is open for business!"
The three-day celebration of the Grand Reopening of Gaylord Opryland began Thursday evening with the annual Lighting Ceremony for the resort's A Country Christmas attractions, which include two million Christmas lights, an 18,000 sq. ft. virtual city of sculpted ice called ICE!, performances by the world-famous Rockettes at the Grand Ole Opry, and more.
After the Lighting Ceremony, the resort hosted a community benefit concert featuring Trace Adkins with special guest Craig Morgan with the proceeds of all ticket sales being contributed directly to three nonprofit organizations that were instrumental in volunteer efforts to clean up and restore Nashville's neighborhoods after the flood: the Nashville Chapter of the American Red Cross, Second Harvest Food Bank, and Hands On Nashville.
During the day on Friday, meeting planners and travel industry dignitaries were invited to a keynote speech with political analyst Dick Morris, followed by a panel discussion with economic experts from Bank of America and Smith Travel Research. Friday evening was capped by a formal dinner and private concert with country superstar Keith Urban.
On Saturday, celebrity chef Guy Fieri treated guests to a culinary display and luncheon, with a private concert with Nashville's own Sheryl Crow planned for the evening.
With 3,000 employees and nearly 3,000 rooms, Gaylord Opryland Resort & Convention Center is the largest hotel in the United States outside of Las Vegas. A special media website has been established for the Grand Reopening events at www.GaylordOpryland.com/mediaroom. 
For information or to book reservations for all A Country Christmas attractions, please visit www.ChristmasatGaylordOpryland.com. 
About Gaylord Hotels®
Gaylord Hotels® is a collection of four upscale resorts which afford endless opportunities for leisure travelers and conventioneers. The hotel company's hallmark — "everything in one place" — provides vacationers with diverse dining options, quality spa and fitness center services, top-notch entertainment, on-site shopping and endless activities — all within each resort. Gaylord Hotels is a pioneer in the hotel and convention industry with properties in the nation's most desirable destinations. Gaylord Hotels include Gaylord Opryland® in Nashville, Tennessee (re-opening November 15, 2010 after the unprecedented May flooding); Gaylord Palms® in Kissimmee, Florida near Orlando; and Gaylord Texan® on Lake Grapevine near Dallas, Texas, and Gaylord National® on the Potomac in National Harbor, Maryland. Gaylord Hotels is owned and operated by Gaylord Entertainment (NYSE: GET), a leading hospitality and entertainment company based in Nashville, Tenn. For more information, please visit: www.gaylordhotels.com.