Written by
U.S. Army Staff Sgt. Ryan C. Matson, Task Force Red Bulls Public Affairs, and
U.S. Army 1st Lt. Matthew Parrino, Company A, 1st Battalion, 133rd Infantry Regiment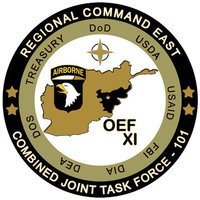 Laghman Province, Afghanistan – Remote. Small. Austere.
These are all adjectives one could use to describe Combat Outpost Najil here in eastern Afghanistan. COP Najil is home to less than 200 Soldiers from Company A, 1st Battalion, 133rd Infantry Regiment, part of the Iowa National Guard's 2nd Infantry Brigade Combat Team, 34th Infantry Red Bulls Division, as well as other servicemembers.
The COP is nestled along the base of a mountain, and there is no flat ground; everywhere the servicemembers walk is on a grade. Living conditions are tough, as water for showering and laundry is limited, and the bathrooms are tubes in the ground. There's no post exchange to be found here; the Soldiers are just happy to have power.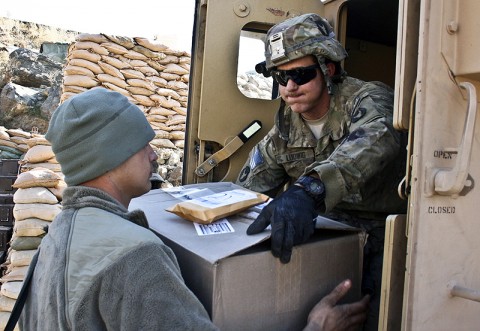 Despite their tough surroundings, Co. A came together to celebrate Christmas and share in some holiday cheer December 24th.
"You're out here hanging out with a bunch of people you never thought you would," said U.S. Army Sgt. Kenneth Cain, a squad leader with 2nd Platoon from Dubuque, Iowa. "After a deployment like this, getting shot at together, getting blown up, all that stuff, you dang near consider them family."
Cain, 24, said he does have family here. His younger brother, Kurt, also is an infantryman, is at Forward Operating Base Mehtar Lam, about 25 miles away.
"We've seen each other five or six times now," Cain said. "We make it a point to get a picture every place we're together. Mom likes that."
Cain said on Christmas morning, which is Christmas Eve in the United States due to the nine-and-a-half hour time difference, he got to see his children open some of their Christmas presents.
"They all had their little matching pajamas on so it was kind of cute," Cain said. "It's a little different, a little difficult with the kids. Santa Claus hasn't come yet, so they opened some presents from their grandparents, aunts and uncles. I got them a little blow up deer target with some foam arrows and stuff – it's kind of cool."
This is the second Christmas being deployed for Cain, who also spent a Christmas in Kosovo.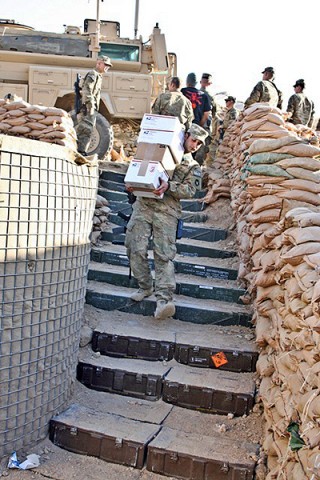 "I'd describe this Christmas as interesting, but definitely worthwhile," Cain said. "We all came here to do a job, all on our own free will, nobody got drafted. I extended for this deployment and we're doing it so people back home can enjoy Christmas and the free life."
The servicemembers took a day off from patrolling the mountainous area around COP Najil to enjoy the holiday. One person who did not have time off, however, was U.S. Army Sgt. Scott Stover, Co. E, 1st Bn., 133rd Inf. Regt., the lone cook on COP Najil. He was still responsible for feeding several hungry platoons of Soldiers, which was nothing new for him. This time, however, he was cooking two lavish holiday dinners.
"It's tiring," Stover admitted. "You get to the point where you can pretty much do it without any sleep."
Stover, who hails from Strawberry Point, Iowa, and his assistant, U.S. Army Spc. Lee Goddard, Co. E, 1st Bn., 133rd Inf. Regt., a truck driver from Dysart, Iowa, prepared two feasts. For lunch, they prepared a dinner of ham and turkey with all the fixings.
Even though Goddard usually works as a truck driver, Stover said he's learned to cook pretty well.
"I told him when he gets home he'll be able to cook his own meals, no more of that easy mac stuff," Stover joked.
Meanwhile, members of 1st Platoon convoyed to FOB Mehtar Lam, an hour and a half drive south, to pick up mail which was piling up.
When the convoy returned, the rest of the Soldiers from Co. A were lining the entrance roadway, waiting for their eight pallets of holiday presents and care packages. They swarmed the trucks like bees on a honeycomb.
That night, Stover had prepared yet another special holiday meal. The Soldiers were treated to lobster tail, shrimp, crab legs and vegetables for their Christmas Eve dinner.
Yes, they were in a rough and tumble, dangerous place in the mountains of eastern Afghanistan, away from family for the holidays. But the company was doing OK – they had become their own extended family.