Written by U.S. Army Spc. Adam L. Mathis
17th Public Affairs Detachment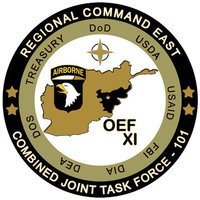 Bagram Airfield, Afghanistan – A dark, braided cord lay across the stage in front of him. On the other side of the cord were two things: a piece of paper awaiting his signature and a new life as a leader of Soldiers.

U.S. Army Sgt. Michael McReynolds, whose philosophy for his six years in the Army was just trying to be the best Soldier he could be, stepped over the cord, signed the paper and was inducted into the Army's corps of noncommissioned officers during an induction ceremony at Bagram Airfield ceremony January 21st.

"Being inducted into something like this is really important," said McReynolds of Chattanooga, Tennessee. "It just feels good to be finally inducted into the corps. I was a little nervous, but I got past that. It's a good day."

Before McReynolds pledged himself to being a leader of Soldiers during the ceremony, the new sergeant sat with approximately two dozen others as they were told about the position and responsibilities they must fulfill.

They were reminded of this by the program's guest speaker, retired U.S. Army Sgt. Maj. Mark D. Sims of Clarksville, Tennessee, currently a deputy director of logistics for the Mission Essential Personnel company. In becoming NCOs, Sims said they were agreeing to take on a responsibility beyond measure.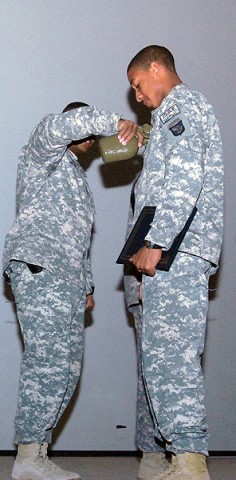 "The NCO induction ceremony takes place to serve as a reminder that you have a critical role in the defense of the United States of America," Sims said. "It cannot be done without you."
   
For McReynolds, this was all the more reason to give his pledge.
"I joined the Army because I wanted to experience the excitement of being in the military," McReynolds said. "You know, I watched the commercials … like most young guys, I just wanted to experience traveling the world and make something out of myself."
And something was made.
Two years ago, when McReynolds arrived at his current unit, Company C of Headquarters and Headquarters Battalion, 101st Airborne Division, his supervisor, U.S. Army Sgt. 1st Class Robert Starmack of San Jose, CA, noticed a future NCO in then-Spc. McReynolds, who would step into leadership roles when no leaders were present.
"He just had a very outgoing attitude, willing to be in front of Soldiers take charge and show the younger guys what was right and what wasn't," said Starmack, a joint network node platoon leader.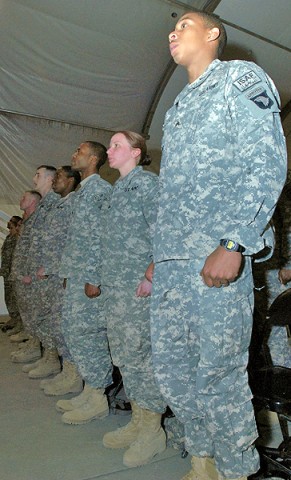 A cable systems installer, McReynolds said he sees his job as an opportunity to contribute to the efforts of the Army in Afghanistan and make a difference in the war.
"I was just proud to be able to help in the fight any way I could," McReynolds said. "You know, whether that's running cable line so we can have phones up… I just wanted to play a part in the fight. So, it's been good."
   
McReynold's deployment experiences, and those of the Soldiers inducted with him, will not end this war; they will continue making contributions to the Army as a whole and to those who want to become its leaders, according to Sims.
   
"For the Army it's great… These young Soldiers, most of them, have been deployed several times," he said. "And this experience that they've garnered over the last couple of deployments is very valuable to the Army. It's going to be the experience that's used to lead the next generation of Soldiers and prepare them for this occasion to become a noncommissioned officer."
Sections
News
Topics
Afghanistan, Bagram Airfield, Forward Operating Base Salerno, Regional Command East