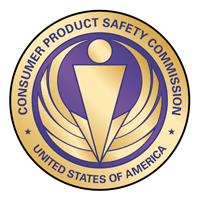 Washington, D.C. – The U.S. Consumer Product Safety Commission and Health Canada, in cooperation with the firm named below, today announced a voluntary recall of the following consumer product. Consumers should stop using recalled products immediately unless otherwise instructed.
It is illegal to resell or attempt to resell a recalled consumer product.
Product Information
Name of Product: Cachet Swivel Chairs
Units: About 165,000
Manufacturer: Steelcase Inc., of Grand Rapids, MI.
Hazard: The front seat support part of the chair can crack and fail, posing a fall hazard to consumers.
Incidents/Injuries: The firm has received one report of a chair support failure resulting in a back injury.
Description: This recall involves all Steelcase Cachet swivel chairs with model number 487 manufactured between May 2002 and October 15th, 2009. The chairs have a plastic slotted seat and back design and some were sold with back and seat cushions. The model number and manufacture date are printed on a label on the underside of the base of the chair.
Sold by: Authorized Steelcase dealers and retail outlets including Healthy Back Store, CSN, Home Office Solutions, Office & Company and Sam Flax stores nationwide and online at www.store.steelcase.com between May 2002 and November 2009 for up to $600.00.
Manufactured in: United States
Remedy: Steelcase will replace chairs for individual consumers who purchased chairs online or from retail outlets listed above. For all commercial customers who purchase chairs in quantity, Steelcase will replace the chair support parts. Chairs should be inspected for cracks in the front seat support according to the instructions posted at http://recall.steelcase.com. If any cracks are identified, consumers should immediately stop using the chairs and contact Steelcase. Even if no cracks are identified, consumers should contact Steelcase to arrange for the replacement process and periodically check for cracks until the chair supports are replaced.
Consumer Contact: For additional information, contact Steelcase toll-free at 800-391-7194 between 8:00am and 5:00pm ET Monday through Friday or visit the firm's website at http://recall.steelcase.com. Consumers can also email the firm at cachetrecall@steelcase.com
CPSC is still interested in receiving incident or injury reports that are either directly related to this product recall or involve a different hazard with the same product. Please tell us about it by visiting https://www.saferproducts.gov/CPSRMSPublic/Incidents/ReportIncident.aspx
About The U.S. Consumer Product Safety Commission
The U.S. Consumer Product Safety Commission is charged with protecting the public from unreasonable risks of serious injury or death from thousands of types of consumer products under the agency's jurisdiction. The CPSC is committed to protecting consumers and families from products that pose a fire, electrical, chemical, or mechanical hazard. The CPSC's work to ensure the safety of consumer products – such as toys, cribs, power tools, cigarette lighters, and household chemicals – contributed significantly to the decline in the rate of deaths and injuries associated with consumer products over the past 30 years.
To report a dangerous product or a product-related injury, call CPSC's Hotline at 800-638-2772 or CPSC's teletypewriter at 301-595-7054. To join a CPSC e-mail subscription list, please go to https://www.cpsc.gov/cpsclist.aspx. Consumers can obtain recall and general safety information by logging on to CPSC's Web site at www.cpsc.gov.