APSU Men's Tennis

Clarksville, TN – Freshman Joao Pagan showed great poise in wrapping up the game-winning match in the Austin Peay State University men's tennis team's 4-3 win against Southern Illinois, Friday.
With the match knotted at 3-3, Pagan's match at No. 6 became the decider in what was a highly competitive match between the Govs and Salukis. Austin Peay won the doubles point, but Southern Illinois had evened the match with three singles wins. With the weight of the match on his shoulders, Pagan navigated his way to a straight-set win.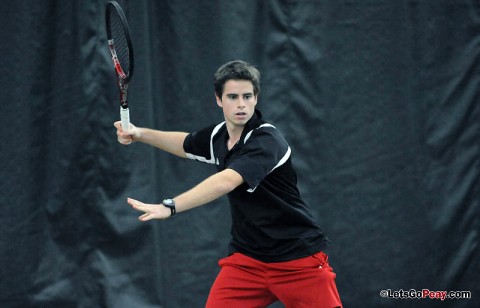 "He handled the match beautifully," head coach Malik Tabet said. "Joao pulled this match off for the team and I'm very excited for him. He applied his strategy and played the match really well. It was very encouraging to see Joao being able to adjust to the situation and handle the pressure the way he did."
Austin Peay got its other two singles wins, both in straight sets, from sophomores Henrique Norbiato at No. 2 and Sean Bailey at No. 3. Freshman Jasmin Ademovic dropped a three-set match to SIU's Adam Fabik – the same player who won the Austin Peay Invitational in September.
"That was a very good match," Tabet said. "I like the way we finished. Overall it was a very competitive match. We had Jasmin go into three sets against a player that will be nationally ranked before the season is over. This was a good indicator that we are competitive."
Strong doubles play set the stage for Pagan's game-winner, as Austin Peay won each of the top two matches. With Bailey and Norbiato at No. 1 doubles and freshman Remi Calleja teaming with Ademovic at No. 2, the Govs are to yet to drop a match at those positions.
The Govs have a quick turnaround with a 7:00pm, Saturday match at Xavier. The team will depart Clarksville, Saturday morning, and Tabet hopes to see a more collaborative effort. While the wins are coming, Tabet continues to search for more all around consistency on the courts.
"We have to work on coming into each match as a team," Tabet said. "We've had some sporadic effort and that's something we emphasized after the match. We'll have a much easier result if everyone shows up and comes together as a team.
"Hopefully, they'll be able to build off this momentum, Saturday. We have to be competitors. The scheduling with out of conference matches isn't always the best, but we have to come out ready to play."
Austin Peay 4, Southern Illinois 3
Singles Competition
Adam Fabik (SIU) def. ADEMOVIC, Jasmin (APSU) 7-6 (4-0), 1-6, 6-1
NORBIATO, Henrique (APSU) def. Falk De Beenhouwer (SIU) 6-1, 7-5
BAILEY, Sean (APSU) def. Brandon Florez (SIU) 6-1, 7-5
Jorge Cavero (SIU) def. CALLEJA, Remi (APSU) 6-4, 6-1
Carlos Do Val (SIU) def. STORIE, John (APSU) 7-5, 6-4
PAGAN, Joao (APSU) def. Orhan Spahic (SIU) 7-5, 6-3
Doubles Competition
NORBIATO, Henrique/BAILEY, Sean (APSU) def. Adam Fabik/Brandon Florez (SIU) 8-4
ADEMOVIC, Jasmin/CALLEJA, Remi (APSU) def. Carlos Do Val/Jorge Cavero (SIU) 8-5
Falk De Beenhouwer/Orhan Spahic (SIU) def. PAGAN, Joao/STORIE, John (APSU) 8-7