Clarksville, TN – Recently, officers were able to link a man to a burglary by following shoe prints through the snow.  This time, sand proved to be the undoing of a burglar.
Around 2:30am this morning, officers responded to an alarm activation at Fleur De Lis, 100 South Main Street. Officer Tom Ortiz arrived on the scene, saw Adam Darke walking from the business and stopped him. When Officer Ortiz made contact with Darke, he could smell alcohol and noticed Darke was unsteady on his feet.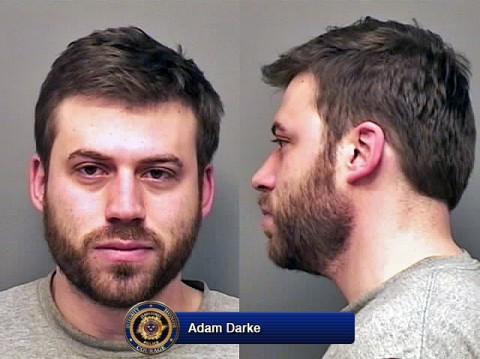 The business was then checked and it was discovered that a back window was broken out and the business had been entered.  Darke was found to have a small cut on his right hand and his shoes were covered with sand.

Also, during the course of the investigation, sandy shoe prints were found inside and outside of the business with a tread pattern which were the same as the shoes Darke was wearing. Additionally there were a shoe prints in a sandy area at the point of entry in the business which matched Darke's shoes.
Adam Drake
Name: Adam Elijah Darke (W/M)
DOB: 02/01/84
Given Address: 613 Madison Street, Apt. 1, Clarksville, TN
Booked Into: Montgomery County Jail
Charged With: Burglary and Public Intoxication.
Bond: $2,922.
Arresting Officer: Tomas Ortiz
Sections
News
Topics
burglary, Clarksville Police Department, CPD, Fleur de Lis, Madison Street, Montgomery County jail, Public Intoxication