APSU Women's Softball

Jacksonville, AL – Austin Peay's softball team got a huge pitching performance from Morgan Brewer Sunday afternoon, in the finale of the three-game Ohio Valley Conference series against Jacksonville State, but in the end it wasn't enough; as the Lady Govs fell to the Gamecocks in nine innings, 1-0.
Brewer, a sophomore, limited Jacksonville State (31-11, 16-3 OVC) to five hits (all singles) and three walks in her eight-plus innings of work stranding 10 Gamecock runners on base – including runners at second and third in the fourth inning, third base in the fifth and bases loaded in the sixth.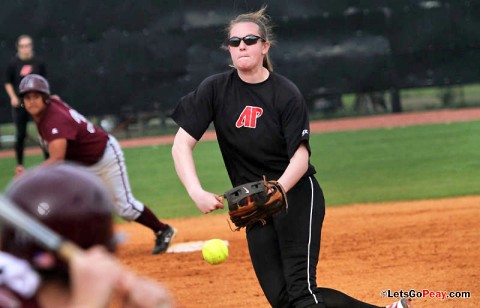 As good as Brewer's pitching was for Austin Peay (10-33, 5-16 OVC) Jacksonville State starter Tiffany Harbin was even better, as she gave up no hits to the Lady Govs in her nine innings in the circle, while recording 10 strike outs and one walk.
In fact, Harbin retired the final 16 Lady Govs she faced not allowing a base runner after hitting red-shirt sophomore Shelby Norton with a pitch with two outs in the fourth inning.
The other two Lady Govs to reach base were junior Catie Cozart on an error by Jacksonville State shortstop Tess Echols in the first inning and a base on ball to junior Ashley Bolda in the second inning.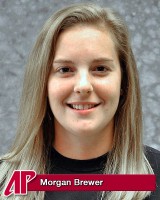 It was the third time his season that the Lady Govs failed to get a hit in a game, and the 10th time they were shutout. It also dropped Austin Peay to 1-3 in extra-inning games in 2011 and was their third 1-0 loss of the season.
The winning run scored just two batters into the bottom of the ninth inning for the Gamecocks, as Hayden Crawford opened up the inning by hitting the first pitch from Brewer back up the middle for a base hit.
Crawford then stole second base, to get into scoring position, and scored on a throwing error by Lady Govs red-shirt sophomore first baseman Shelby Norton's hi throw to senior second baseman Randal Davenport – who was covering first.
The Lady Govs are off until April 22nd, when they host league leader Eastern Illinois in a three-game OVC series at Cheryl Holt Field.