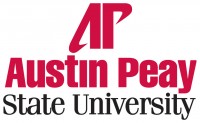 Clarksville, TN – Jennifer Montgomery didn't get much sleep this past semester. Aside from the normal stresses of a graduating college senior, the Austin Peay State University history student was plagued with images of misspelled words and incorrectly used commas during many sleepless nights. When she thought about scholarly citations and the proper use of the Chicago Manual of Style, she nearly went into a panic.
That's because Montgomery, a member of the University's Phi Alpha Theta (PAT) history honor society, took on an enormous responsibility during her final semester at APSU. She was appointed to serve as the editor-in-chief of the first scholarly history journal in Austin Peay's history.
"We started it in the fall, but most of the work was done in the last month and a half," Montgomery said. "We wanted to create a yearly publication for students to be able to publish their papers in that they presented at conferences. It's a big relief to get a final copy and see how wonderful it looks."
The new journal, Theta-Delta, named after APSU's local PAT chapter, was officially unveiled last week during an awards ceremony for the University's Department of History and Philosophy. The resulting journal is 95-page, professional publication modeled after major scholarly magazines such as The Journal of Southern History.
"You are to be commended for launching this new endeavor – a treasure for all who enjoy the many discoveries found in the scholarship of history," APSU President Tim Hall said in a letter to PAT members.
The idea of creating a scholarly publication began about a year ago when Dr. Minoa Uffelman, associate professor of history at APSU, saw a copy of Murray State University's history journal. 
"We decided we wanted to do one," she said. "We wanted it to be a student journal, and Jennifer agreed to be the editor-in-chief. She sent out a call for papers to everyone who has presented at conferences in the last couple of years."
Members of the local PAT chapter formed a Board of Editors to oversee the creation of the magazine. Those board members included APSU history students Brittani Anderson, Deanna Carter, Phillip Holland, Jane Moore, Jacob Puckett, J. Tomlin, Vandy Watt and Paige Williams.
The students spent months studying other journals, trying to develop the right look for their new publication. They met with APSU assistant professor of history and senior editor of the Tennessee Historical Quarterly Dr. Kris Ray, and with Melony Shemberger, assistant director of communication at APSU, to learn the ins and outs of putting a magazine together.
After doing their research, the students set about gathering papers on history topics as varied as ancient Greece to the Holocaust. Once these articles were selected, Montgomery and the other students stayed up late line editing each sentence to make sure there were no typos or misspelled words.
"This is 100 percent student driven and created," Deanna Carter, APSU history student, said. "We had guidance, but it's been all students doing this."
A limited number of printed versions of the journal were distributed during last week's awards ceremony. The Theta-Delta publication is also available for free download on the website lulu.com.
For more information on the magazine, contact Uffelman at uffelmanm@apsu.edu.