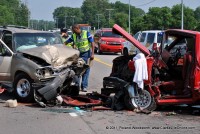 Clarksville, TN – On May 30th, 2011, around 1:46pm, Tiny Town Road was closed to west bound traffic and down to one lane east bound near Tara Blvd. A violent two car crash claimed the life of one and another had to be Life Flighted with multiple fractures according to Clarksville Police Public Information Officer Jim Knoll.
The names have not been released pending notification of family members.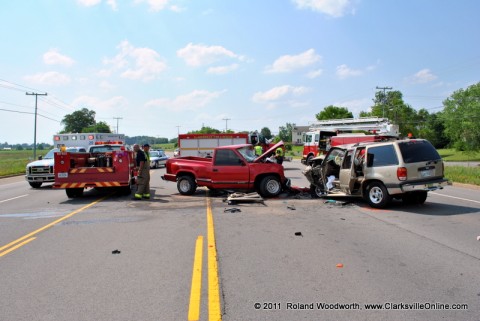 The cause of the accident is still under investigation at this time. Witnesses on the scene stated that the male driver, in his 30s,  of the red 1990 Chevy pickup truck was traveling west on Tiny Town Road and then all of a sudden swerved and struck the 2000 Ford Explorer, driven by a female in her 30s, head on. Both drivers had to be extracted out of their vehicles. The male driver later died at the scene. The female was taken by Air Evac to Vanderbilt University Medical Center.
It appears as though neither driver was wearing  a seatbelt.
No other information is available at this time. The investigation is ongoing.  Alcohol does not appear to be a factor.
Officer John Reyes is the lead investigator, 931-648-0656, ext 7128.
Photo Gallery