Topic: Air EVAC

Clarksville, TN – On Thursday, January 18th, 2018 around 1:40pm, Clarksville Police report a 99 Ford Ranger driven by a 55 year old man, had a green light and was traveling east on Crossland Avenue when a 2011 GMC Sierra driven by an 18 year old male, traveling south of Talley Drive, ran through a redlight and crashed into the driver side of the Ford Ranger.
According to witness accounts, the 18 year old was driving at a high rate of speed on Talley Drive when he ran the redlight.
«Read the rest of this article»

Clarksville, TN – On November 10th, 2012, around 4:39pm, Walter Skowron, 66, of Clarksville, TN, was riding a Harley motorcycle east (toward the interstate) on the HWY 76 Connector when a 2009 Toyota Scion, driven by Kayla McClellan, 19, of Clarksville, TN, was traveling west on the HWY 76 Connector, made a left turn at Sango Road intersection, failed to yield to the oncoming motorcycle, and they collided in the roadway. «Read the rest of this article»
Man Taken to Vanderbilt by Air Evac

Clarksville, TN – On May 27th, 2012, around 3:15am, Clarksville Police report that Marlon Blackmon, 33, of Clarksville was driving a 1997 Jeep Wrangler northbound on Peachers Mill Road, crossed left of center for an unknown reason at Providence Point.
Blackmon then went off the left side of the roadway, struck a curb and a school crossing sign, sideswiped a utility pole, hit a wooden post, went down an embankment, and the vehicle rolled onto its roof.
«Read the rest of this article»

Clarksville, TN – On March 1st, 2012, at approximately 9:50am, a collision occurred on Ashland City Road (41-A Bypass) involving a 1988 Plymouth Voyager operated by Christopher Gobel of Clarksville, TN and a 2000 GMC Yukon operated by Patricia Hodges of Southside, TN.
The Voyager operated by Gobel drifted for an unknown reason from the southbound travel lane and struck the Yukon in the northbound travel lane. «Read the rest of this article»

Clarksville, TN – On October 10th, 2011, 2:25pm, Ryan Michael Watts, 25, 433 Kelsey Drive, Clarksville was outside in the yard with some friends and his two children. Ryan Watts had one of the adults spotting him as he backed up his Chevy SUV in the driveway.
At the time, he started to back the SUV, the driveway area was clear behind the vehicle. He had backed up a short distance and, unknown to Watts, his 2 year old daughter ran from the side of the driveway behind the SUV. One of the SUV tires ran over the two year old. «Read the rest of this article»
A verbal altercation between two men, which turned physical, results in one man being cut with a box cutter

Clarksville, TN – On October 6th, 2011, around 11:45am, 911 received a call about a man that had been cut with a box cutter.  The victim had driven away from the scene despite the severity of his injuries.
A short time after that, officers were lead to the victim's location by another 911 call which indicated the victim was at a residence off of Edmondson Ferry and bleeding severely.
«Read the rest of this article»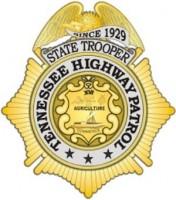 Clarksville, TN – Around 2:46pm yesterday afternoon, a 1998 Ford Ranger Pickup was traveling west bound on I-24 near mile marker 1 when it left the road, crashing into a tree. The accident forced the closure of the west bound lanes of the interstate for approximately an hour.
Three occupants were in the vehicle. The driver and one passenger riding in the cab, had to be extricated from the vehicle by emergency responders. They were then transported by the Vanderbilt Lifeflight and Air Evac Lifeteam helicopters to Vanderbilt University Medical Center in Nashville, TN. The third passenger was a 13 year old boy who was riding in the bed of the pickup, and was ejected upon impact. After initial treatment on scene, the he was also transported to Vanderbilt Medical Center by ambulance.
«Read the rest of this article»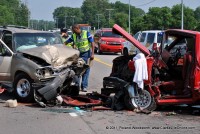 Clarksville, TN – On May 30th, 2011, around 1:46pm, Tiny Town Road was closed to west bound traffic and down to one lane east bound near Tara Blvd. A violent two car crash claimed the life of one and another had to be Life Flighted with multiple fractures according to Clarksville Police Public Information Officer Jim Knoll.
The names have not been released pending notification of family members.
«Read the rest of this article»

Clarksville, TN – On 4-28-11 around 10:30am, Gerald Lopez was in a Ford Escort stopped in the left turn lane of northbound Fort Campbell Blvd at Dover Crossing waiting to make a left turn onto Dover Crossing.
The traffic light turned green, but southbound traffic did not begin to move so Lopez started to make a left turn and then saw a Honda motorcycle, driven by a 52 year old male, approaching in the right southbound lane of Fort Campbell Blvd.
«Read the rest of this article»

Clarksville, TN – Around 2:26pm, a 23 year old man riding a bicycle was struck by a hit and run driver in the area of 1150 Madison Street.
Richard Timothy Smith, 23, of Cumberland Furnace was hit on  Madison Street, by a white full sized extended cab pickup, driven by an unknown driver.
«Read the rest of this article»