Designed to be Root of Student Success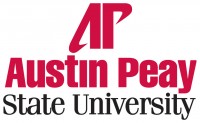 Clarksville, TN – As the large crowd of Austin Peay State University supporters and new students listened to speakers at the grand opening of the new Castle Heights residence hall, they also caught a glimpse of a housing transformation behind them.
Near Castle Heights stood Hand Village, which had been until today the newest residence hall on campus. Then there were the three old halls situated nearby – Cross, Killebrew and Rawlins – waiting for demolition in the near future. Castle Heights replaces those three.
"In 2000, we started embarking on a new housing transition," said Mitch Robinson, vice president of finance and administration. Plans for Hand Village shortly thereafter began, with the residence hall opening in 2004.
Castle Heights, a 416-bed facility, is part of the Freshman Experience model to help first-year students become more connected to the University. Several national research projects have indicated that a program focused on freshmen helps these students to combat homesickness and improve study habits, among other issues they may be experiencing during the transition to college life.
"Castle Heights was designed not only to be a home but a root to the success of our students," President Tim Hall said.
Much history surrounds the new Castle Heights residence hall. The original Castle Building was the centerpiece of the former Masonic College of Tennessee, an educational institution preceding APSU on the same campus grounds. It was built in 1850 at a cost of $32,000, considered extravagant at the time.
Castle Building remained for 100 years until 1946 when it collapsed, nine days after President Halbert Harvill took the helm of Austin Peay State College. The area then formed into one of the city's first platted neighborhoods in the 1940s, known as Castle Heights.
As time moved on, families in the neighborhood began to move away, and homeowners died, leaving much of the Castle Heights private property empty for long periods of time with no one buying the homes.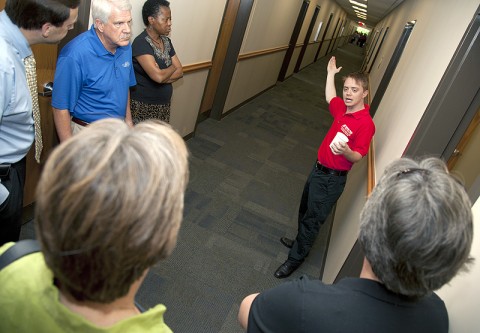 APSU's rapid growth in student enrollment and deterioration in the old residence halls led University officials to begin working on acquiring Castle Heights property. Today, the result can be seen with the Castle Heights residence hall.
"We have a new Castle Heights overlooking campus," Dr. Sheryl Byrd, vice president of student affairs, said.
Attendees at the grand opening were invited to tour new rooms on the fifth floor. The new residence hall already is serving as a temporary home for some of the APSU student-athletes returning to campus for season practice before the academic year officially begins August 27th. Freshmen check in to their residence halls August 25th.
This fall, APSU will begin construction of a new residence hall complex, one that will set the stage for a more collegiate look on the main campus.
Phase II housing will include three halls that would house 425 students. Construction will begin after the three old halls are demolished.
For more information about the new Castle Heights residence hall, call the APSU Office of Housing, Residence Life and Dining Services, 931.221.7444.