APSU Sports: Women's Soccer

Clarksville, TN – Austin Peay State University women's soccer team opened its home schedule shutting out Union, 5-0, Tuesday night at Morgan Brothers Soccer Field.
Sophomore Tatiana Ariza netted her season's second hat trick, while sophomore Natalia Ariza and junior Emily Perkins each added a goal as well.
"I'm really pleased with the result," Lady Govs head coach Kelley Guth said. "Union was a good team. They were organized and they stayed in system. They put us in some pressure early, but we spent a lot time this week working on our collective shape. I saw a lot of positives tonight, as far as how we trained this week."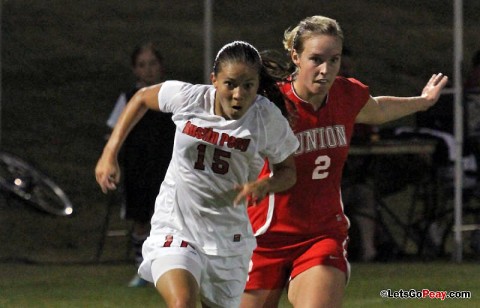 While the Lady Govs (3-0) outshot Union 24-2, the Bulldogs had many of their first-half opportunites thwarted by the Lady Govs back line. With sophomore Emily Kink joined by freshman Taylor Van Wagner in the middle, juniors Renny Robinson and Stephanie Weider, along with sophomore Corey Osborn provided protection on the outsides. For the third straight game, senior Mackenzie Ladd and sophomore Haylee Shoaff split time in net.
Tatiana opened the scoring with her first goal in the 17th minute, on an inside cut pass from sophomore Morgan Zigelsky. Nearly 10 minutes later, Tatiana scored again off a touch from Natalia, making it 2-0. The Colombian twins reversed roles for the next goal, as Tatiana found Natalia for her season's second goal in the 38th minute.
APSU would take a 4-0 halftime lead when Tatiana found the back of the net again, in the 43rd minute.
Perkins would score the game's final goal in the 46th minute. A shot by junior Jocelyn Murdoch, saved by Union, was deflected to the left, allowing Perkins to punch it in and set the final 5-0 margin.
"It's been exciting to watch," Guth said. "Tatiana's an exciting player and she can find ways to score. There were a couple of great turns in there, and some good combination opportunities. She does that well. It's great to have those players up there making things happen offensively."
Austin Peay continues its three-match homestand when it hosts Western Kentucky, 7:00pm, Friday.