September 2011 is Prostate Cancer Awareness Month in Montgomery County and Clarksville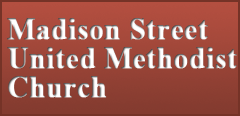 Clarksville, TN – Did you know 30,000 men die each year from prostate cancer? Or that 1 in 2,000 men between the ages of 40-44 and 1 in 476 men between the ages of 50-56 will develop prostate cancer? After the age of 75, 1 in 6 men will develop prostate cancer? This disease affects so many men and their families right here in Clarksville.
Prostate Cancer Support Group meets this Thursday September 22nd at 7:00pm and is for men and their families who are dealing with this disease or have questions about the disease.
This meeting will feature Dr. Nicolas Cook of Tennessee Oncology talking about treatment options after diagnosis.
All men and their families are invited. There is no charge. Light refreshments will be served.
Madison Street United Methodist Church is located at 319 Madison Street, Clarksville.
For more information, call Dave Keeton at 931-368-1903, the Church Office at 931.647.0221 or e-mail