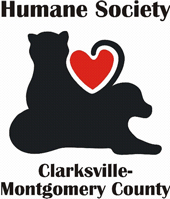 Clarksville, TN – On Friday, October 7th the Clarksville Montgomery County Humane Society is holding their Spay-ghetti Dinner at the Madison Street United Methodist Church.
If you are unable to attend this Friday's Spay-ghetti Dinner fundraiser, you can still do your part to help make the event a success by donating any of the following:
Canned sodas, Bottled water, Napkins (red preferred, but any will do) or Gift cards for Olive Garden, Fazoli's, Old Chicago, Petsmart or Pet Food Center (for drawings!!)
Every item we do not have to purchase will increase their net proceeds from the event! If you do not have time to shop, you can make a financial contribution and the Humane Society will do the shopping for you.
Donations can be dropped off this week during office hours: Tuesday or Friday between 9:00am-2:00pm and Wednesday/Thursday between 4:30pm-6:30pm. The Clarksville Montgomery County Humane Society is located at 940 Tennessee Avenue (blue building behind Arby's on Riverside Drive). They can also arrange pick up.
For more information, call 931.648.8042.
For more information on the Spay-Ghetti Dinner see: SPAY-Ghetti Dinner Fundraiser